Bonner teen wins $75,000 with lottery ticket bought in Basehor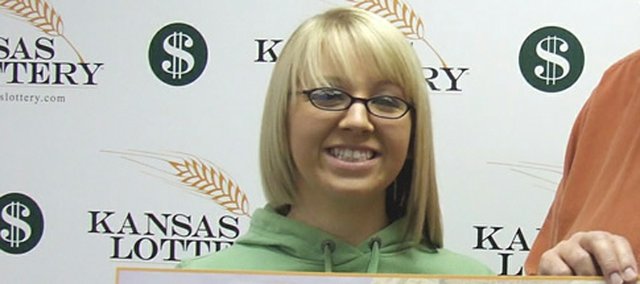 Watching a television show and acting on its message paid off to the tune of $75,000 for an 18-year-old Bonner Springs woman.
Ciara McDonnell, 18, remembers with absolute clarity how she came to win $75,000 after buying a lottery ticket in Basehor, where she works with her mother in a beauty salon. Ciara says it all started with a television show.
"A few weeks ago, my mom and I were watching a TV show about how the lottery changed people's lives. We decided right then and there we were going to try to win ourselves," Ciara said.
Ciara had a strong feeling that watching the show was no coincidence, said Deborah McDonnell, Ciara's mother.
"Ciara always said, 'I feel like I'm a rich girl in a poor girl's world,'" laughed Deborah McDonnell.
And so Wednesday night, when Ciara and her parents were driving by the Casey's store, at 15441 Wolfcreek Parkway, Basehor, Ciara and Deborah made a spur-of-the-moment decision to stop and purchase a few tickets. One of their purchases was a $10 scratch ticket called $2,000,000 Cash Bonanza, on which Ciara scratched off a $75,000 top prize!
"We really couldn't believe it," said Ciara's dad, Quinton McDonnell. "We kept checking the ticket over and over again."
Once Ciara was satisfied she, indeed, had won, she texted her fiancé, Zach Cohorst, in Egypt, where he is serving with the Kansas Army National Guard.
"Of course, he thought I was kidding," said Ciara.
Ciara works in the beauty shop her mother owns, Classy Cuts Too, in Basehor. Ciara plans to buy her mother a new car with her prize money, and will also save some for a wedding cruise planned for February 2011.