Chieftains crush Buffalos in opener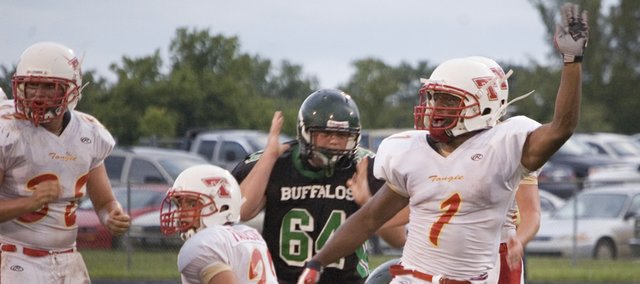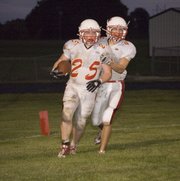 LA CYGNE — Prairie View High might be home of the Buffalos, but the Chieftains roamed for touchdown after wide-open touchdown in a 56-6 rout on Friday night.
Tonganoxie scored four times in the first quarter alone as senior backs Jeremie Maus and DJ Lindsay ran wild on the hapless Buffalos in the team's season opener.
Maus scored the Chieftains' first of seven offensive touchdowns with a 47-yard jaunt that might has well have been undefended there was so little resistance.
THS (1-0) went up two scores when quarterback Jeremy Carlisle lofted a seven-yard pass to Lindsay, who made himself familiar with the end zone at PVHS.
Lindsay scored the next touchdown with a 36-yard run, and a 42-yard rushing TD from Maus with 3:11 to go in the first quarter put Tonganoxie up 28 points.
The defense got on the scoreboard in the second quarter, when PVHS attempted a swinging gate trick play that resulted in a botched snap. Tucker Hollingsworth snatched up the unsuccessful trickery and ran 84 yards the other way for a score.
With two more touchdowns in the second quarter — one on an 11-yard run and another on a 54-yard pass from Carlisle — Lindsay finished the evening with four scores. And an interception.
THS led 49-6 at halftime and started running out the clock in the third quarter. The Chieftains did manage to score again, though it wasn't on a designed play. A handoff from Carlisle to Jason Espeland ended up sitting on the ground at the line of scrimmage and Carlisle scooped the football off the turf and ran 40 yards for Tonganoxie's final score.
Forcing turnovers made the game extra-lopsided for THS. Lindsay got his pick in the first quarter. Later in the opening stanza, Espeland recovered a fumble. When THS went up 21-0, the ensuing kickoff was recovered by AJ Gilbert.
After Hollingsworth's defensive touchdown in the second quarter, Lucas Ahart got a fumble recovery of his own.
Next Friday at 7 p.m., the Chieftains will have their home opener as they play host to Osawatomie for homecoming.
Score by quarters
THS 28 21 7 0 — 56
PVHS 0 6 0 0 — 6
Tonganoxie scoring
FIRST QUARTER
(10:02) Jeremie Maus 47 run; Amos White kick.
(7:36) DJ Lindsay 7 pass from Jeremy Carlisle; White kick.
(3:52) Lindsay 36 run; White kick.
(3:11) Maus 42 run; White kick.
SECOND QUARTER
(8:35) Tucker Hollingsworth 84 fumble recovery; White kick.
(6:21) Lindsay 11 run; White kick.
(:29) Lindsay 54 pass from Carlisle; White kick.
THIRD QUARTER
(1:59) Carlisle 40 run; White kick.
Tonganoxie rushing
Austen Holloway 6-20, Jeremie Maus 4-128, Jeremy Carlisle 9-119, DJ Lindsay 4-59, Shawn Marin 3-38, Ian McClellan 4-6, Brady Waldeier 4-14, Jonas Myers 1-8.
Tonganoxie passing
Jeremy Carlisle 4-6-73, Brady Waldeier 0-1-0, Jeremy Wagner 0-1-0.
Tonganoxie receiving
DJ Lindsay 2-61, Justin Jacobs 1-5, Jeremie Maus 1-7.