TOPS

program hones in on truck safety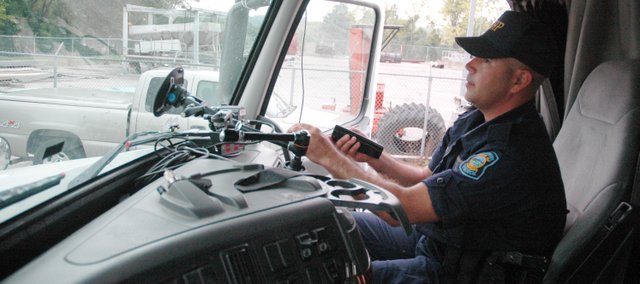 When approaching a semi truck on the highway, the first instinct of many drivers is to pass and get in front of it as soon and as quickly as possible.
But that instinct is wrong and can be very dangerous, says the Kansas Highway Patrol, and its Trucks on Patrol for Safety program has taken to the asphalt over the last three years to educate drivers throughout the state of Kansas on how to deal safely with trucks on the road.
This year's program, which began July 20, ended Friday with an informal news conference at the patrol's Wyandotte County District Office in Bonner Springs.
"The public tends to forget that a large truck can't react like a passenger car," said Captain Daniel Meyer at the conference, making the point that a 2,000-pound car putting on its brakes works much differently than an 80,000-pound truck trying to stop or slow down when a car cuts it off without leaving enough of a space cushion.
Meyer said that when passing a truck going 65 mph, a driver should wait at least four seconds before moving over into the right lane so as to give the truck driver enough of a cushion of safety.
"Anything less than that, you're risking a collision," he said.
Meyer offered some other suggestions for how to deal safely with trucks on the road and also talked more specifically about how the program works. Using a decoy truck, which may be a different model or size on any given week of the program, a licensed truck driver will drive with an official from the Kansas Highway Patrol riding in the passenger seat. A radar and video camera are attached to the front windshield.
In addition, four officers will ride within the vicinity of the decoy truck. Whenever the officer riding in the decoy truck sees a car passing it too slowly or quickly, pulling in front of it without allowing for a safe amount of time or tailing it too closely, they will radio one of the other officers to pull that driver over. Consequences for any of these violations can result in close to a $150 ticket, including court costs, but Lt. Chris Turner, who has been in the passenger seat over the last two weeks, said more warnings are given out than citations.
"The biggest part of the program isn't about writing tickets," he said. "The biggest part of this program is about educating the people we stop."
For more of this story, pick up next week's issue of the Chieftain, out Sept. 10.