Assertive approach, defense lead
THS

soccer to first victory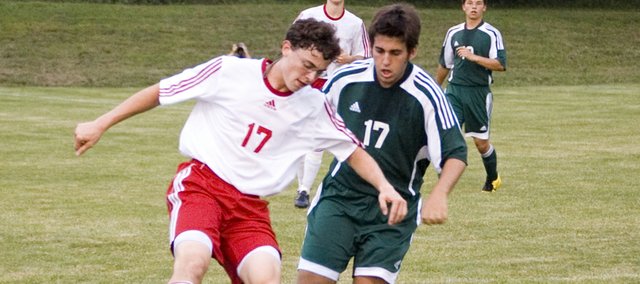 First they tied. Then they lost. But in their third straight home game on Thursday, the Chieftains played their best soccer of the young season and earned their first win, 2-0, against rival Basehor-Linwood.
"We always seem to play real well against Basehor, and I think it's because the kids know each other," Tonganoxie High soccer coach Ken Lott said.
As long as the Chieftains (1-1-1) are as aggressive against other foes as they were versus BLHS, the team should be just fine. THS was assertive with its passes and runs throughout the night and capitalized early with its offensive fervor.
"It felt real good and I'm happy we came out with the win," said Joseph Parrino, who scored Tonganoxie's first goal and assisted Bret Koch on another.
Parrino, a late addition to the starting lineup, teamed with Koch and Tyler Woolworth at forward to create a dynamic attack. After playing primarily junior varsity as a freshman last season, the THS staff wanted to give Parrino more looks this year.
"He's got a good foot and he's got good ball skills," Lott said.
The coaches are still trying to develop the sophomore and teach him to make the smart play every time but a mild injury to defender Jake Willis allowed Parrino to start and see more action than expected on Thursday.
With Willis out at the beginning of the match, THS shifted Kenny Schultz from forward to defender, where he excelled last season.
Parrino took Schultz's forward spot in the starting lineup and brought an assertive approach that the team emulated as the Chieftains fired at will against the Bobcats. Though Parrino and Woolworth had most of the shot attempts, Koch, Matt Briggs and Willis (who felt good enough to play some) all had quality looks against Basehor-Linwood.
"I think we had a little bit more team speed than they did," Lott said. "We try to take advantage of that."
Tonganoxie's offense wasn't the only highlight in the team's first victory. The defense impressed as well in the shutout. Schultz was a presence and Keaton Schaffer repeatedly headed and cleared out would-be BLHS attacks.
Goalkeeper Mitch DeHoff didn't have to do anything spectacular, which was just fine with him.
"We've started great," the goalie said. "The defense has been awesome in front of me. Putting the pressure on the ball makes it hard for the other team to shoot."
DeHoff also likes what he is watching on the other side of the pitch, where the offense is improving.
"It's been looking a lot better," said the senior keeper. "It's good to watch."
Parrino thinks the Chieftains will keep putting on a show.
"Throughout this season, it's going to change because we're going to have a lot more wins than losses," he predicted.
Tonganoxie has its first road match of the season at 6 p.m. Thursday at Perry-Lecompton.