Interchangeable parts
Tonganoxie volleyball players versatile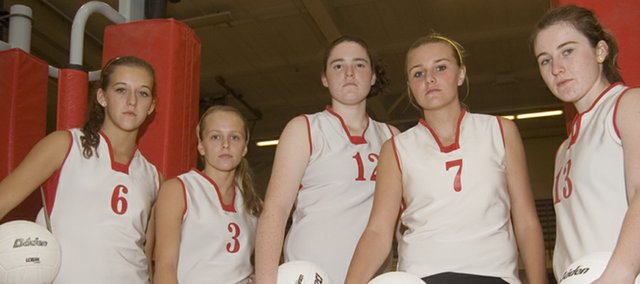 On the first day of practice, Tonganoxie High volleyball co-coach Brandon Parker asked his players if they had ever seen one of those nature specials on television in which a predator is chasing down its prey.
He used the example of a wolf going after a helpless rabbit.
"I'm rooting for the wolf," Parker told his players.
That's because he and co-coach Tiffany Parker want to see the Chieftains play with a fierce, carnivorous attitude like that wolf.
The analogy might have worked — "We see it at times," Brandon Parker said — but after three-plus weeks of preseason practices, the coaches won't know for sure if THS possesses a killer instinct until the season starts tonight, when the team plays host to Baldwin at 7 p.m.
Intensity may be hard to maintain without playing matches, but the lengthy build-up to the regular season was designed with the postseason in mind. The idea is the Chieftains will have a lot more matches late in the season, heading into sub-state, and establish a solid rhythm by avoiding much down time. Plus, it makes the team more fundamentally sound.
"I think it helps us more at the end of the year," Parker said, "to just have some building blocks and skills that we're teaching."
While teaching, the THS staff is taking a different approach this year. Players aren't being trained for specific positions on the floor. Instead, Tonganoxie is aiming for versatile players at every position who can do a bit of everything.
"We're just developing volleyball players," Parker said. "No one here is going to be one-dimensional."
If they are, they will be hard-pressed to find playing time. The Chieftains have 12 players, and each is capable of making an impact. Between seniors Abby Eisman, Maggie Franiuk, Ali George, Lauren Hall and Allison Kistner; juniors Danielle Miller and Molly O'Hagan; sophomores Shyanne Gergick, Megan Hummelgaard and Brooklyn Kerbaugh; and freshmen Hannah Kemp and Jenny Whitledge, THS shouldn't see much drop-off.
"We pretty much have a full set that can come in and replace us if we need them to," Eisman said.
It's the kind of depth the coaches should enjoy.
"If you're having trouble producing, we're going to put somebody else in," Parker said.
Despite the open competition for spots, Franiuk said the extra practice time has helped the team bond. Underclassmen are stepping up and seniors are doing their best to push them.
"Everybody's coming together and making it work," Franiuk said.
The hope is substitutions and alignments will be seamless with each player capable of playing multiple positions. THS has a pair of setters — George and Kemp — with no varsity experience. But with multi-dimensional players, Parker said Tonganoxie should be able to run its set plays with anyone passing or setting.
"We want to swing all the time," he said.
Eisman thinks the Chieftains will be balanced.
"We definitely have a good front row because we can get up and block, and we can swing," she said, "but we're good in the back row, too. It's not like we just have one strong point."
In a rebuilding year, Tonganoxie ended its season strong in 2008, winning 15 of its last 19 matches. Parker said this year's team is even better now.
"We've got a higher level volleyball player across the board," he said, noting the team isn't lacking skills. "We're about as high as we've been."
That being said, the Chieftains will have to prove it on the floor. And Franiuk said the players, whether in the game or on the sideline cheering, need to bring maximum intensity.
"Everybody has to be a wolf," she said.