Pack attack:
THS

boys run together for win
New Tonganoxie girls impress coach in cross country debuts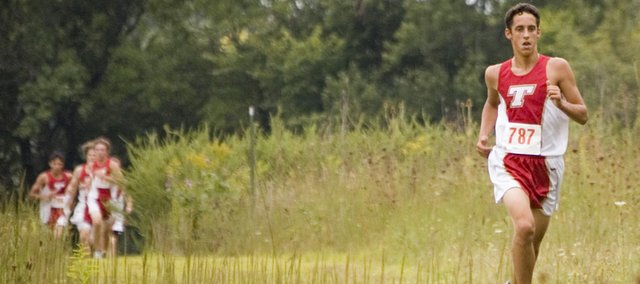 Photo Gallery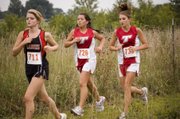 Tonganoxie splits dual with Lansing
The Tonganoxie High cross country boys were victorious in their season-opening dual with Lansing on Thursday. Although the girls didn't win, a few newcomers and a steady veteran impressed.
The boys cross country team at Tonganoxie High didn't have the top runner in its home dual with Lansing but it had a slew of runners faster than the Lions' second-best finisher as the Chieftains opened their season with a team victory Thursday.
Lansing's Pete Lamoe finished the 5K in an impressive 16:37 but all seven of Tonganoxie's varsity runners crossed the finish line before another Lion did, and the Chieftains' 20 points beat Lansing's 43 with ease.
"I was real pleased with our overall team scoring," said Caleb Himpel, who finished second with a time of 18:34.
THS coach Phil Williams said the boys ran in a pack as well as any team he has coached. Himpel, Dalton Harrington, Keith Slater, Justin Soetaert, Patrick Rachford, Joel Dunning and Cooper Gish all finished within 1:45 of each other.
"I wasn't sure how many Lansing runners would be up there, so I was pleasantly surprised to have all seven of us ahead of their second runner," Williams said, noting Brady Field, who won the boys junior varsity race for THS earlier that afternoon, also would have been ahead of the rest of the Lions.
The coach likes to see that kind of performance.
"Obviously, Caleb Himpel ran very well, but I thought Cooper Gish is the one who exceeded my expectations the most," Williams said. "For him to beat all of Lansing's runners but one says a lot about his attitude this year."
Lansing girls 23, Tonganoxie 35
The Tonganoxie girls couldn't match the boys with a victory but Williams thought they performed well.
"We knew Lansing's girls would be tough, and they probably are one of the better teams in 5A, so I wasn't extremely disappointed we lost," the coach said.
Senior Andie Jeannin took second place in the 4K with a time of 16:25, just 11 seconds behind Lansing's Lauren Jaqua.
"That's like the best I've felt during any race," Jeannin said.
By changing her usual mindset for the race, Jeannin said she ran better by taking a care-free, "whatever" approach.
"I wasn't really nervous," she said. "I just went running."
Williams said his senior leader appears more fit than she was in the spring, when her right knee started to bother her, and Jeannin posted the second-best time of her career.
"I look forward to her being near the top of every race this year," Williams said.
Alex Hauk finished fourth for Tonganoxie but the biggest surprise was the performance of two newcomers. Shelby Maxon was Tonganoxie's third-best runner and Nikki Beggs had the team's fourth-best time.
"I was extremely happy with Shelby. She has really amazed me so far with her work ethic and natural endurance. Not many run that well in their first race ever," Williams said. "Nikki Beggs ran well for her first one, too."
Jeannin said the new runners would take much from the experience.
"It built the girls' confidence," she said. "Now they know how well they can do."
Tonganoxie travels Thursday to the Atchison County Invite.
Girls 4K
Team scores: Lansing 23, Tonganoxie 35
THS individual results
2. Andie Jeannin, 16:25; 4. Alex Hauk, 17:34; 7. Shelby Maxon, 18:15; 10. Nikki Beggs, 19:05; 12. Sarah Williams, 19:32; 13. Cristina Rubio, 19:36; 14. Lindsay Cox, 20:21.
Boys 5K
Team scores: Tonganoxie 20, Lansing 43
THS individual results
2. Caleb Himpel, 18:34; 3. Dalton Harrington, 18:49; 4. Keith Slater, 18:53; 5. Justin Soetaert, 19:11; 6. Patrick Rachford, 19:46; 7. Joel Dunning, 19:56; 8. Cooper Gish, 20:19.