Unstoppable Chieftains win by 50
Tonganoxie baffles Buffalos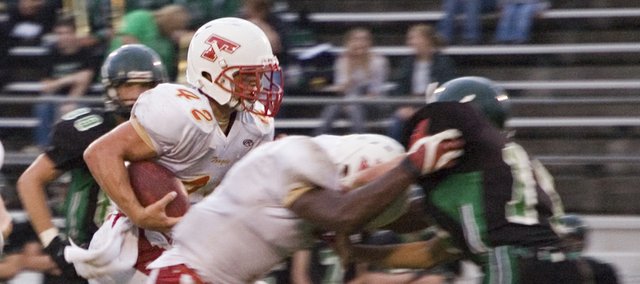 Photo Gallery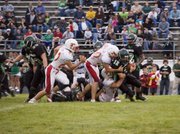 Chieftains win by 50
The Tonganoxie High football team dominated in a 56-6 rout of Prairie View at LaCynge on Friday night.
LA CYGNE — Who knew football was so easy?
On Tonganoxie High's second play from scrimmage in its season opener Friday at Prairie View, Jeremie Maus ran 47 yards untouched — and almost unseen — for a score.
It was just a sign of things to come as the Chieftains manhandled the Buffalos, 56-6.
"That was awesome," Maus said of the first of eight THS touchdowns on the night.
A few fakes in the backfield distracted the PVHS defense and by the time Maus popped out on the right side with the ball, there wasn't a defender within 10 yards of him.
"There was nobody that even knew I had the ball," Maus marveled afterward. "I looked around and was like, 'There's no one here.'"
The Buffalo defense was MIA often as Tonganoxie dominated the first half. The Chieftains ran 18 plays from scrimmage, only picked up four first downs and scored six touchdowns to the delight of coach Mark Elston.
"I'll take that every time," he said. "That's not a bad deal."
In the first quarter alone, THS (1-0) scored four touchdowns. On the team's second possession, Jeremy Carlisle floated a seven-yard pass out in front of DJ Lindsay, who was just getting started, for a score.
Lindsay ran 36 yards for the next Tonganoxie TD and Maus broke another huge run, going 42 yards to put the Chieftains up 28-0.
Lindsay found the end zone twice more in the second quarter with an 11-yard run and a 54-yard reception from Carlisle, giving him four scores on the night. It looked easy because it was.
"All the backs had to do was run the ball," Lindsay said. "The holes were huge. Our lineman were blowing them up and that's exactly what we needed."
Tonganoxie's biggest strength is its team speed and Elston wanted to get his playmakers in wide-open spaces so they could devastate PVHS.
"We jumped on them early and then our guys got a lot of confidence and things worked really well for us," Elston said.
Things went so well that even a near turnover on offense resulted in a score. Late in the third quarter, a handoff from Carlisle to Jason Espeland ended up sitting on the ground at the line of scrimmage and Carlisle scooped the football off the turf and ran 40 yards for Tonganoxie's final score. Elston joked the play was a "fumblerooski we've been working on for five months," but clarified it was really just Carlisle being alert.
The game was filled with huge play after huge play for Tonganoxie.
"Especially after last season, this is very exciting," said junior kicker Tucker Hollingsworth. "I've never had to kickoff that many times."
Nor had he ever run as far with the football as he did for a defensive touchdown in the second quarter. PVHS (0-1) actually had put together a drive and when THS stopped the Buffalos on third-and-goal, Prairie View lined up in a swinging gate formation on fourth. But the Chieftains sniffed out the trick play before it started.
"If his hand's under it, obviously it's a snap to the side," Hollingsworth said, noting fellow linebacker Maus gave him a head's up.
The snap to the side was botched, however, and Hollingsworth snatched the ball off the ground and took it 84 yards the other way. It was a long haul he didn't think he would finish.
"I got to the 50, (Dylan) Faulconer gave me a great block on a cutback. The last 30 yards, DJ Lindsay actually gave me encouragement," Hollingsworth said.
That fumble recovery was just one of five THS forced on the night while avoiding a give-away. Lindsay picked off a pass and Espeland, AJ Gilbert and Lucas Ahart also recovered fumbles for the Tonganoxie defense.
It was all pretty easy for THS. But it won't be like that every Friday.
"I'm not satisfied," Lindsay said. "I know we play bigger, better teams in the coming weeks."
Tonganoxie plays host to Osawatomie for homecoming at 7 p.m. Friday at Beatty Field.