Bike rodeo teaches youths safety
Photo Gallery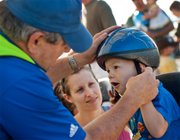 Bike Rodeo
As part of the Safe Routes to School program, the city and school sponsored a free bike rodeo where children were properly fitted with free helmets, got their bikes inspected for safety, and participated in an obstacle course designed to teach kids the correct way to ride their bikes in an urban setting.
Tonganoxie had another rodeo recently, but instead of riding bulls around an arena, about 50 area youths hopped on their bikes and rode around the Tonganoxie Middle School parking lot for the city's inaugural Walking School Bus bike rodeo.
Steve Petrehn, regional coordinator for Bridging the Gap's Walking School Bus program, said the event, which took place Aug. 22, was a success despite not giving away all of the free bike helmets because many children and members of the community are more aware of bike safety issues.
"More and more communities are putting in more bicycle-friendly features to make it safer to ride," he said. "With the cost of fuel rising and concerns with air pollution, it is good to encourage kids to start riding to school."
Bridging the Gap, which contracted with the city to help coordinate programs associated with the $250,000 Safe Routes to School grant, coordinated with the Tonganoxie School District to put on the rodeo. About 50 children took advantage of the free bike helmets and a free fitting available at the rodeo as well as free bike tune-ups provided by the Lawrence Re-cyclery, 731 New Hampshire.
The children visited eight different stations where they learned things such as how to stop or yield to cross traffic, safely crossing over a railroad track and how to properly use hand signals in traffic.
Once the safety course was completed, the children were entitled to a certificate of completion.
Petrehn said he wants more people in the community to get involved to encourage those who choose to bike or walk to school.
"I asked the police department to keep their eyes open for kids that are practicing the good things they've learned here and to let the kids know when they catch them practicing what they learned," Petrehn said. "Parents should also keep an eye out for kids and try to reinforce the good things they've learned."
Around 25 volunteers from the Tonganoxie Recreation Commission, the Tonganoxie School District, the Knights of Columbus and Tonganoxie High School students were on hand to help the kids register, get their helmets fitted and to help run the course.
The Tonganoxie Police Department and Fire Department were also on hand to provide support, as well as officers from the Lansing Police Department who were there as part of the Safe Kids Kansas program that provided parents instruction on properly choosing and installing child safety seats.
Brian Duncan, project director for Safe Kids Kansas in Leavenworth County and a Lansing police officer, said the Lansing Police Department provides the child seat service as well as bicycle helmet, swim safety and toddler safety programs to different cities in the county.
Parents were also on hand to monitor their children to see if they were ready for street riding.
Chris Niemeyer, was at the event with his two daughters Caia, 7, and Cadyn, 6.
"It's just good practice for the kids," Niemeyer said. "They get to understand the basic rules of riding in town and then they get to apply it."
Because not all of the helmets were given away, Petrehn hopes to have another bike rodeo possibly in the spring and to have a big celebration when the new safe routes to school sidewalks are complete.