THS

rallies for season-opening win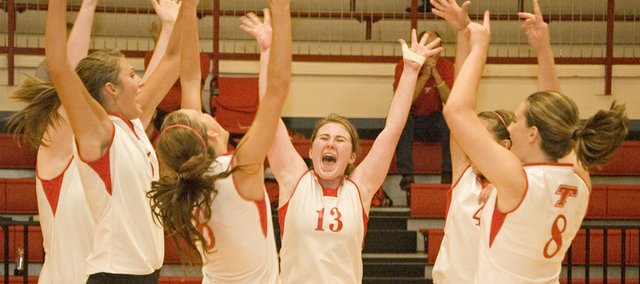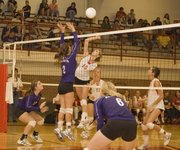 It took some wherewithal, but the Tonganoxie High volleyball team found a way to win a back-and-forth match with Baldwin in its season opener Wednesday night.
The Chieftains lost two of the first three games in the best-of-five match before rallying to win the final two by five points apiece.
Service errors hounded THS (1-0) in the first and third games, which they lost, 25-22 and 25-20.
"We were absolutely horrible serving," THS co-coach Brandon Parker said, noting his team had seven service errors in its three-point loss. "I don't know if there's anything worse than horrible, but we probably would've been that. We were just bad."
That was not the case in the second, fourth or deciding games, in which Tonganoxie beat Baldwin, 25-19, 25-20 and 15-10.
"There's a correlation there. Any coach will tell you that," Parker said.
Momentum swung in Tonganoxie's favor, the coach said, once the players rid themselves of first-match jitters and found a way to make plays
"Shyanne Gergick had a big dig that (gave us) momentum. Maggie (Franiuk) had a play right here (at the net) that she got up and Molly (O'Hagan) kept it alive," Parker noted. "When you play with enthusiasm, you stand such a good chance."
Senior Ali George brought a lot of positive energy to the court but settled down when it was necessary. George served to start the fifth game and helped put THS up 5-0 before the Bulldogs (2-2) rallied with five straight points of their own. Tonganoxie then went on a 6-1 run, only to see Baldwin respond with another 5-0 run.
Ultimately, the Chieftains came through in the clutch by winning the final four points, culminated by a perfectly placed finesse shot by freshmen Jenny Whitledge for the match-winner.
Tonganoxie never trailed in any of the three games it won.
The Chieftains aren't back in action again until Tuesday, when they travel to DeSoto for a 5 p.m. triangular.