World Co. published 1st Mirror decade ago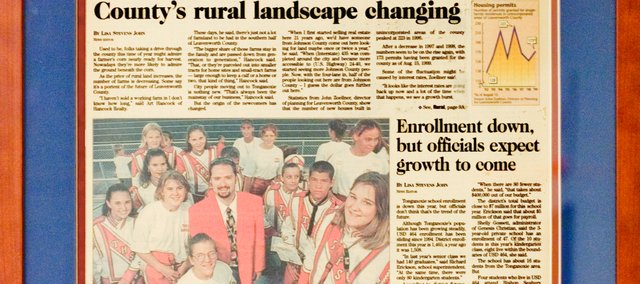 The World Company has been part of the Tonganoxie community for a decade.
The Lawrence-based company that also owns the Lawrence Journal-World, Sunflower Broadband and several other community newspapers in the area published its first edition of The Mirror on Sept. 8, 1999. The Tonganoxie newspaper was founded in 1882.
Front-page stories in the Sept. 8, 1999, issue focused on the county's rural landscape changing, as well as enrollment being down in Tonganoxie. The story noted that enrollment had been declining every year since 1994. That's a stark contrast to today, in which enrollment continues to climb. Of course, the rural landscape continues to change as well, as work on County Road 1 and a turnpike interchange in southern Leavenworth County are nearly complete.
In another story, Tonganoxie High School band director Charles Van Middlesworth was featured. Van Middlesworth took over the helm at THS that year. In the story, Mr. Van, as he is known to his students and the community, said he hopped out of bed every day at 6 a.m., usually was at school at 7 a.m. and was at the school until 5:30 p.m. or 6 p.m.
"I'm single right now and all I care about is my job, I care about the kids, I really care about them," Van Middlesworth said in the 1999 story. Mr. Van continues to lead Chieftain musicians 10 years later. And, he now is married to the former Kristin Walker with two children.
Mirror news editor Shawn Linenberger, who has been at the newspaper since 2001, said it's interesting to reflect on stories from a decade ago.
"Time certainly flies," Linenberger said. "It's fun to think back to the stories that have been written in the past 10 years, especially following some youths in the community who grow up before your eyes and graduate.
"We're honored to be a part of Tonganoxie and look forward to continuing to tell the story of this community."