Jenkins talks health care at town hall meeting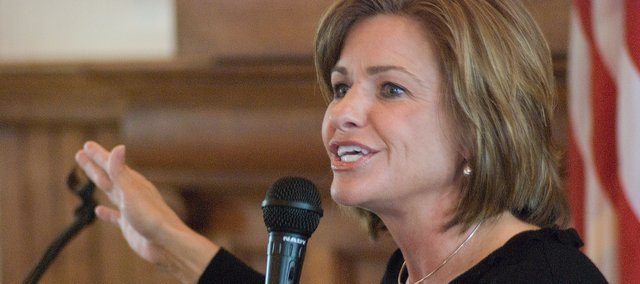 U.S. Rep. Lynn Jenkins says she supports health care reform — on terms set out by a group of congressional Republicans.
Jenkins, R-Kan., attended a town hall Sept. 3 in Leavenworth with a crowd of about 130 people packed into a room at the Riverfront Community Center.
The first-term congresswoman began the town hall meeting by telling the audience about a new health care reform bill in the works with the House Republican Health Care Solutions Group. The GOP legislation, Jenkins said, addresses issues Americans "truly care about" when it comes to their insurance: affordability, accessibility and availability.
In this plan, free market is "alive and well," Jenkins said, and insurance and pharmaceutical industries will not suffer under its provisions.
After she briefly explained the bill, Jenkins turned the meeting over to those in attendance. People from the audience took turns coming to the microphone and asked for Jenkins' opinion on several topics.
One audience member asked Jenkins how she proposed to maintain growth within the insurance industry without a mandated provider.
"We're proposing smarter regulation… to get the marketplace working again," Jenkins said. "We can't just do nothing anymore."
Jenkins also was asked how she felt about abortion being funded with government money.
"I do not support federally funded abortion," Jenkins said.
A woman in the audience who identified herself as the secretary of the Kansas Black Republicans Council said she was concerned when she heard Jenkins' previous remarks in Hiawatha about Republicans searching for a "great white hope" to solve the nation's problems.
"I would like to know where you stand on the issue of race," the woman said.
Jenkins expressed her regret about using the phrase "great white hope," saying she had no intention of hurting anyone.
"What I meant was a hope, a light," Jenkins said. "I wasn't aware of the meaning behind it. Will it be the last time I use an idiom before I know its true meaning? Probably not. Just because I'm a member of Congress doesn't mean I'm flawless."
Another topic addressed was the question of whether officials in Washington, D.C., would have the same insurance as other American citizens, under proposed health reform.
Jenkins said initially the bill did not call for Congress to have the same coverage, but an amendment was in the works to change that.
"I won't have any part of that hypocrisy," Jenkins said of different health care for Congress. "If Congress passes (the bill), we're going, too."
The last comment from the audience came from a man who told Jenkins to make sure Congress took its time, made the right decisions and served everyone in the country equally.
"That's a good way to summarize," Jenkins said when the man was finished.
Jenkins then encouraged those present to keep providing her with ideas and feedback via her Web site.
"Don't let this be the end of your communication or input to me," Jenkins said.
More like this story