THS

suffers homecoming loss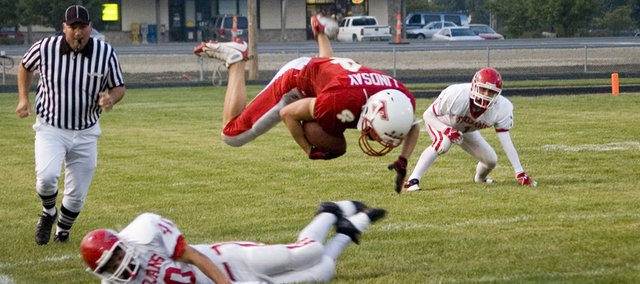 Homecoming night turned into a rude awakening for the Chieftains as Osawatomie pulled off a 36-33 victory following a Tonganoxie High turnover in the final minute.
THS (1-1) was in position to run out the clock in the final few minutes but a penalty on third-and-one and a snap over the head of punter Jeremy Wagner on fourth down allowed the Trojans, trailing by five at the time, to get the ball on the Tonganoxie six-yard line with 39.2 seconds remaining.
It took two plays for OHS (2-0) to score as quarterback Seth Jones threw for a touchdown and two-point conversion.
The Chieftains started their final drive with just 25.3 seconds remaining and were able to advance the ball 24 yards in three plays before a would-be hook-and-lateral on a completion from Jeremy Carlisle to Justin Jacobs ended up on the turf and Osawatomie recovered its fifth THS turnover of the evening.
Senior DJ Lindsay had two touchdowns — one running, one receiving — and 187 yards rushing in the loss. Carlisle threw for 137 yards and a score and rushed for 167 yards and two more touchdowns on the ground.
Next up for Tonganoxie is a home game with Perry-Lecompton on Friday.
Score by quarters
THS 14 6 7 6 — 33
OHS 8 12 8 8 — 36
Scoring
T — Jeremy Carlisle 4 run. Amos White kick.
O — Jameson Greenwood 72 run. Seth Jones run.
T — DJ Lindsay 74 run. White kick.
O — Brandon Oakes 8 pass from Jones. Conversion failed.
O — Greenwood 13 run. Conversion failed.
T — Carlisle 4 run. Kick failed.
T — Lindsay 43 pass from Carlisle. White kick.
O — Greenwood 1 run. Jones run.
T — Jeremie Maus 21 run. Kick failed.
O — Dylon Needham 5 pass from Jones. Hunter Taylor pass from Jones.
THS rushing
DJ Lindsay 10-187, Jeremy Carlisle 14-167, Jeremie Maus 7-76, Austen Holloway 8-38, Jeff Sims 1-9.
THS passing
Jeremy Carlisle 10-17-137, Jeremy Wagner 0-1-0.
THS receiving
Dylan Faulconer 5-54, Justin Jacobs 4-39, DJ Lindsay 1-43.