Miscues doom
THS

in 3-point loss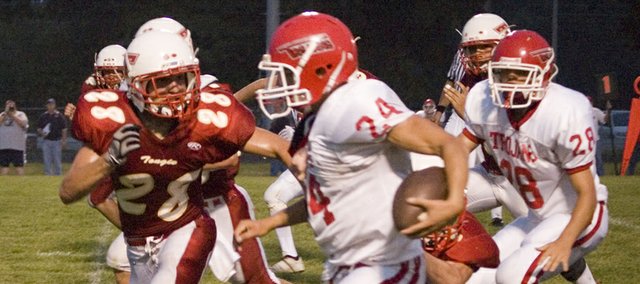 Photo Gallery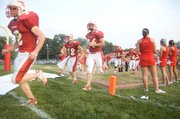 Chieftains lose homecoming game
Tonganoxie was troubled by turnovers and penalties and lost to Osawatomie, 36-33, on Friday at Beatty Field.
What a difference a week makes.
Seven days earlier, the Tonganoxie High football team was plus-five in turnover margin on its way to a 50-point laugher of a victory.
On Friday, however, the Chieftains were plagued by turnovers — with a minus-five margin — and penalties in a 36-33 homecoming loss to Osawatomie.
The Trojans capitalized on THS mistakes, negating the Chieftains' impressive offensive numbers — 614 yards of total offense with four rushing touchdowns and a passing score.
"Six hundred yards of offense is great, but you're not gonna win any ballgames with five turnovers," Tonganoxie coach Mark Elston said afterward.
The trouble started in the second quarter with a fumble on an option pitch from quarterback Jeremy Carlisle to DJ Lindsay. OHS (2-0) later turned that into a touchdown, taking a 20-14 lead.
Miscues became insurmountable for THS in the fourth quarter, when the Chieftains gave the ball away three times.
The first came with 11:38 remaining on an exchange between Carlisle and Jeremie Maus.
But the final two occurred with less than a minute remaining.
After an illegal shift (one of 10 THS penalties on the night) negated a first-down run, the Chieftains were forced to punt with a five-point lead. A high snap well over the head of punter Jeremy Wagner was recovered by OHS on the THS six-yard line with 39.2 seconds remaining. Two plays later, Osawatomie took a 36-33 lead with 28.9 to go.
A nine-yard return from Brady Waldeier on the ensuing kickoff put Tonganoxie (1-1) 59 yards away from the end zone with just more than 25 seconds left. Following completions of 18 and six yards from Carlisle to Dylan Faulconer, THS was on the Trojans' 35-yard line with 11.4 to go.
On what proved to be the Chieftains' final play, Carlisle hit Justin Jacobs for an 11-yard gain. But as Jacobs attempted a hook-and-lateral pitch to Lindsay, an OHS defender struck his arms, forcing a fumble that the Trojans recovered.
The heart-breaking finish left THS thinking: what-if.
"Everybody's looking back to the little things we could've done," Jacobs said.
One big thing Tonganoxie had trouble stopping was OHS running back Jameson Greenwood, who rushed for three scores and made a habit of running outside for big gains.
"Their offensive line was opening up holes up front and they had a really good running back who has good vision and could run through the holes good," Jacobs said of Greenwood.
Added Faulconer: "We need to get all of our defense on the same page."
The most maddening part of it all was that things could have been much different.
"We felt disappointed but it's really our fault because we made mistakes on offense and defense," senior running back Austen Holloway said. "We didn't do our jobs — our key blocks, we didn't get tackles where we should have outside on defense. Little things are what killed us."
At times, Holloway said, Tonganoxie didn't have all 11 players on the same page. The lack of focus, he added, might have come from the team's walk in the park opening week, when THS won 56-6.
"We can't underestimate any team," Holloway said. "We came off a really big win and it might have clouded our vision about what this team could be. We didn't come prepared."
Between the turnovers, penalties — in the third quarter, THS had a first-and-goal on the four-yard line backed up to the 40 after three straight flags — and failure to stop Greenwood, it was a troubling night.
"We have to be more disciplined," Elston said.
Carlisle finished with 304 yards of total offense and three touchdowns. Lindsay scored twice and had 230 yards from scrimmage.
Tonganoxie has its first Kaw Valley League contest with a 7 p.m. kickoff Friday at home against Perry-Lecompton.
Score by quarters
THS 14 6 7 6 — 33
OHS 8 12 8 8 — 36
THS rushing
DJ Lindsay 10-187, Jeremy Carlisle 14-167, Jeremie Maus 7-76, Austen Holloway 8-38, Jeff Sims 1-9.
THS passing
Jeremy Carlisle 10-17-137, Jeremy Wagner 0-1-0.
THS receiving
Dylan Faulconer 5-54, Justin Jacobs 4-39, DJ Lindsay 1-43.
How they scored
First Quarter
7:47 — Jeremy Carlisle 4 run. Amos White kick. (THS 7, OHS 0)
7:05 — Jameson Greenwood 72 run. Seth Jones run. (OHS 8, THS 7)
0:55 — DJ Lindsay 74 run. White kick. (THS 14, OHS 8)
Second Quarter
11:25 — Brandon Oakes 8 pass from Jones. Conversion failed. (THS 14, OHS 14)
10:17 — Greenwood 13 run. Conversion failed. (OHS 20, THS 14)
0:07 — Carlisle 4 run. Kick failed. (THS 20, OHS 20)
Third Quarter
10:42 — Lindsay 43 pass from Carlisle. White kick. (THS 27, OHS 20)
7:01 — Greenwood 1 run. Jones run. (OHS 28, THS 27)
Fourth Quarter
8:13 — Jeremie Maus 21 run. Kick failed. (THS 33, OHS 28)
0:28 — Dylon Needham 5 pass from Jones. Hunter Taylor pass from Jones. (OHS 36, THS 33)