Tonganoxie shows 'moxie' in crunch time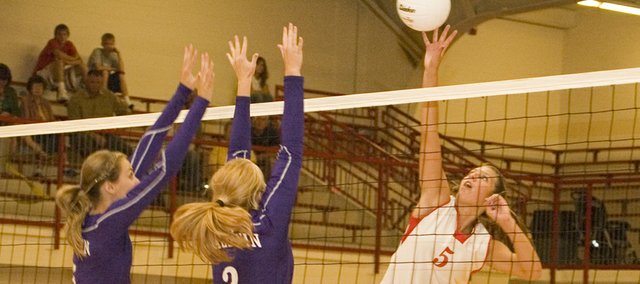 Photo Gallery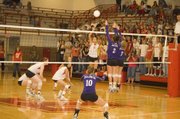 THS volleyball wins opener
The Chieftains beat Baldwin in a best-of-five match to open the 2009 season on Wednesday, Sept. 9 at Tonganoxie High.
After three-and-a-half weeks of preseason practices, stomachs full of nerves, losses in two of its first three games and a pressure-packed fifth game — after all of that — the Tonganoxie High volleyball team left its season opener with a victory thanks to some good, old-fashioned "moxie."
Ultimately, intestinal fortitude was the difference as the Chieftains held off a late Baldwin rally on Sept. 9 for a win in a best-of-five match.
THS played nervous in the first game — its first live action of the season — and the Bulldogs responded by winning two of the first three. But Tonganoxie (1-0) won the last two games, even though BHS cut a five-point THS lead to one in the final, first-to-15 set.
Tonganoxie co-coaches Brandon and Tiffany Parker liked what they saw from their team in the final minutes of the match — "gut-check time," Brandon Parker called it.
"We got aggressive when it got tight," he said. "Skill things can be fixed. If you don't have moxie, it's hard to fix that."
One of Tonganoxie's fixable problems was its service. Errors in the first and third games led to Baldwin victories. When the Chieftains' servers were connecting, the team was successful and Baldwin had a hard time passing.
"You can never say what if, but if we would've gotten our serves in," THS junior Molly O'Hagan said, "I think it made more of a flow when we were playing that way."
O'Hagan said she and her teammates could learn from the two games they lost.
"We need to stop and think about what we're doing and execute better," she said. "That was the problem we were having."
Early on in the match, Parker said his team wasn't enthused on the court and it showed.
"They were kicking us, kicking us bad," he said.
Down 2-1 early, senior Ali George said the Chieftains had to pick themselves up off the floor.
"That was good that we finally got it together," she said.
They did so by getting contributions from everyone in action. O'Hagan, Abby Eisman, Maggie Franiuk, Danielle Miller and Brooklyn Kerbaugh all had moments of strong play at the net.
Even better, THS was able to make plays from its back row as libero Megan Hummelgaard and Shyanne Gergick, as well as others, made digs and passes to get the Chieftains going.
Also impressive was the play of the team's freshmen, Hannah Kemp and Jenny Whitledge.
"I think the freshmen stepped up and I was proud that they didn't freak out," O'Hagan said, adding the duo buckled down and didn't play like newbies. "Age doesn't matter on the court. They're ready."
George said the complete team effort was a good sign.
"We all stepped up and knew what we had to do," she said.
Parker credited Baldwin, who he said has improved much since last year, for making things tough on THS. And he was glad to see Tonganoxie's players respond.
"It wasn't like in a volleyball sense, we were just great. But we had big plays," the co-coach said. "It's a good win, it's a good way to start out. And we know that they're never really going to be easy."