Elementary students learn lesson in living green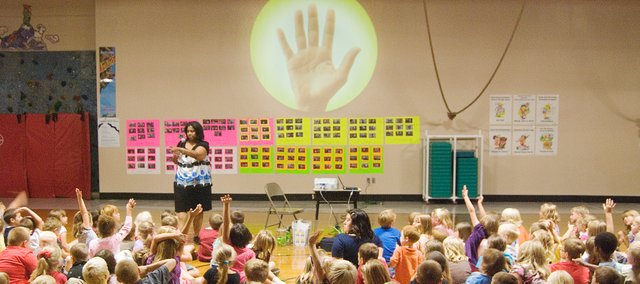 If you want to know five different things you can do to reduce your carbon footprint, just ask a Tonganoxie Elementary School student.
On Thursday, TES played host to a Five Green Things program for youths and adults to learn about ways to help the environment.
In the morning, students learned about carbon emissions, consuming non-renewable resources and what they could do to curb those issues.
Arletha Manlove, Five Green Things program manager for Bridging the Gap, told the students the five different ways they could start making a difference.
Manlove told students that if they cut two minutes out of their shower time, they could be saving 60 gallons of water. She also said that youths taking baths could save water by not filling up the tub all the way, but to their bellybuttons.
Using reusable plastic bottles instead of using water bottles could reduce the amount of oil needed to produce those bottles and cut down on the amount of garbage in landfills, she said.
Manlove also advocated that children walk and bike to more places to reduce the need to be taken places in a car.
Mason Davenport, who attended both the TES and adult programs, said he wanted to ride his bike to help the environment.
Replacing some meals with meatless meals was the fourth thing students could do to reduce their need for resources. According to Manlove, eating less meat means fewer animals needing to be transported by vehicles and that livestock are responsible for emitting greenhouse gases, Manlove noted.
"You've already had meals without meat and might not have noticed," she said.
Manlove gave the examples of having a peanut butter and jelly sandwich as a meatless meal or macaroni and cheese. One student gave the example of jellybeans as a meatless meal.
Finally, Manlove told students they could help the planet by growing something, especially food that they could enjoy with their families.
Tammie George, TES principal, thought the program might make an impact on the children.
"By the end of the day they could all tell me at least one of the five things, which is good," she said. "I do think they go home and tell their parents that this is important."
While not as well attended as the morning program, the evening program gave parents a few other ways to live a greener life.
Paul Grahovac, a volunteer speaker with Bridging the Gap, told Tonganoxie parents to: cut out bottled water, wash their clothing in cold water, switch to compact fluorescent light bulbs, turn the thermostat to 78 degrees in the summer and 68 degrees in the winter and reduce their gasoline use by 25 percent.
To continue on with this green message, the school is also looking at becoming a recycling hub.
Deffenbaugh Industries removed the recycling bins from Tonganoxie High School after the district switched trash collectors from Deffenbaugh to Honey Creek Disposal. Now George wants to continue that program and hopes that within three weeks new recycling bins will collect more than just paper.