Wizards to stay in
KCK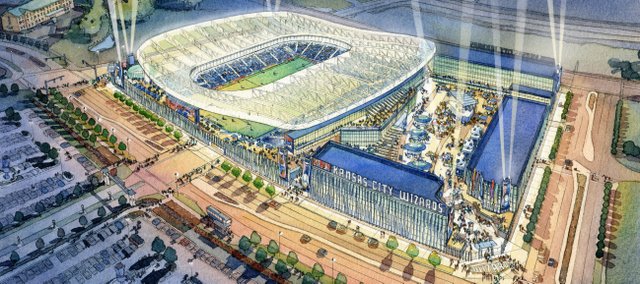 Plans for the Kansas City Wizards to move their permanent soccer facility to Wyandotte County became official this week.
The Unified Government Board of Commissioners unanimously approved a memorandum of understanding for a $414 million office complex and soccer stadium to be located in Village West, near Kansas Speedway.
According to Wyandotte County officials, the office campus will house an expansion of Kansas City's Cerner Corporation and include 4,000 new employees. It will also become the permanent home of the major league soccer team, which has been using CommunityAmerica Ballpark — also located in Village West — for a temporary location for the past two years.
While the project still requires approval from the State of Kansas for the use of STAR Bond revenues and other economic development tax credits, officials are already touting that the project will create 8,300 new jobs in Wyandotte County.
"All of Wyandotte County and the State of Kansas benefit from these new additions to Village West," wrote the Board of Commissioners in a released statement. "The new jobs and millions in additional property taxes will be a huge boost to the economy of Wyandotte County. This new economic activity from 8,300 new jobs will generate revenues for the Unified Government and State of Kansas far beyond the sales tax dedicated to STAR Bonds."
STAR Bonds is a state-financing program that allows city government to issue bonds that are repaid over a 20-year period using the generated sales tax revenues.
The total new development will be worth $414 million, with the Wizards stadium accounting for $202.7 million and the Cerner office campus accounting for $149.6 million. There is also a proposed hotel of $14.3 million and a tournament caliber athletic/soccer fields complex at $47.7 million.
Originally the Wizards corporation was working on a deal to build its new facility in the former Bannister Mall area in Kansas City, Mo. The project was stalled and the group was able to come to a more agreeable contract across the state line in Kansas.
"The Kansas City metro is truly a regional community," wrote the board. "Keeping the Kansas City Wizards in Kansas City is a benefit to both Missouri and Kansas. No matter which side of the state line the stadium sits, the team is still a Kansas City team. The Unified Government is glad we can assist the metro community in keeping the Wizards here."