Chieftains shut out
PLHS

, 14-0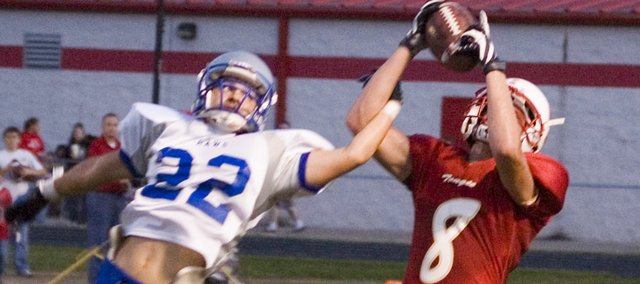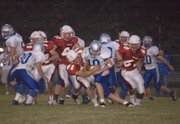 As snap after shotgun snap flew over the head of Perry-Lecompton quarterback Jeremy Immenschuh on Friday night, surely some people in the stands at Beatty Field felt sorry for the 5-foot-7 sophomore.
His opponents on the gridiron, the Tonganoxie High Chieftains, however, were remorseless in a 14-0 victory.
THS gladly chased, pressured and hit Immenschuh on the high snaps, pouncing on him as he covered up the ball.
By the time the game was over, the Kaws' signal-caller had 11 runs that resulted in negative yardage. But to his credit, only one of those resulted in a lost fumble — on third-and-25 late in the third quarter, when Tonganoxie's Jason Espeland and Jeremie Maus applied pressure and Espeland recovered the loose ball.
It was one of four THS takeaways on the night as Shawn Marin, Jeff Sims and Dylan Scates snagged an interception apiece.
Mistakes, on the other hand, were minimal for the Chieftains (2-1 overall, 1-0 Kaw Valley League). One of quarterback Jeremy Carlisle's passes was intercepted by the Kaws' Tyler Banton and Marin muffed a punt return late in the second quarter.
A speedy junior, Marin made up for that mistake not only with his pick — in the end zone midway through the fourth quarter — but also by breaking up a fourth-down PLHS pass play on the ensuing possession.
Tonganoxie played its most complete game of the young season against PLHS (0-3, 0-2). The effort was apparently worth some celebratory fireworks, which shot off from the northeast corner of the stadium, and a water-cooler bath for coach Mark Elston in the locker room. The 10th-year THS coach said the locker-room shower from his players was a tradition.
"I'll take my dousings," a soaked Elston said afterward. "The more dousings we have, the better off we are."
The coach was pleased with the play of his defense in the shutout but also was complimentary of the Tonganoxie offense, which had scored far more often — totaling 89 points — in the team's first two games.
"Even though we had scored a lot of points, we hadn't displayed being tough on offense," Elston said.
No one was tougher on offense than Carlisle, who had to earn each one of his 44 yards on the ground and 95 through the air. He scored both rushing touchdowns for Tonganoxie.
Elston said Perry-Lecompton had one of the best defenses his team will see this year.
"Those kids are tough, they went to the state finals last year and they've got a lot of pride on the line," Elston said. "Coach (Mike) Paramore does a wonderful job getting the most out of his talent."
PLHS senior Brad Phillips ran for 101 yards and brought in three catches for 33 yards in the loss.
Next week, Tonganoxie travels to K.C. Wyandotte and Perry-Lecompton plays host to Atchison.
Score by quarters
PLHS 0 0 0 0 — 0
THS 0 7 7 0 — 14
Rushing
PLHS: Brad Phillips 13-101, Trent Robb 13-33, Luke Kellum 5-25, Jeremy Immenschuh 13- -89.
THS: Jeremy Carlisle 21-44, Austen Holloway 11-42, DJ Lindsay 3-13, Shawn Marin 1-7, Tucker Hollingsworth 1-4, Jeremie Maus 2-2.
Passing
PLHS: Jeremy Immenschuh 12-23-88, three intercepted.
THS: Jeremy Carlisle 4-7-95, one intercepted.
Receiving
PLHS: Brad Phillips 3-33, Tyler Banton 5-30, Trent Robb 2-14, Luke Kellum 1-6, Ethan Moe 1-5.
THS: Dylan Scates 2-42, Justin Jacobs 1-38, DJ Lindsay 1-15.
How they scored
Second Quarter
10:25 — Jeremy Carlisle 2 run. Amos White kick. (Tonganoxie 7, Perry-Lecompton 0)
Third Quarter
8:56 — Carlisle 5 run. White kick. (Tonganoxie 14, Perry-Lecompton 0)