Scoring surge makes
THS

soccer difficult to stop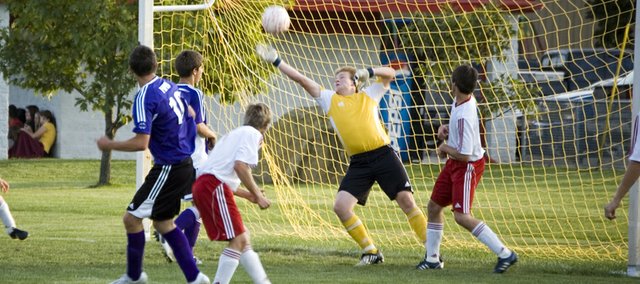 Photo Gallery
Chieftains win 4-1 at home
The Tonganoxie High boys soccer team won its second match of the season on Wednesday, Sept. 16 at Chieftain Park with a 4-1 victory over Piper.
It looks like the Tonganoxie High soccer team's offense is catching up with its defense.
The Chieftains began to pour on goals this past week in two home victories, knocking off Piper, 4-1, and Eudora, 6-0.
THS coach Ken Lott said the team was finally being efficient with its scoring opportunities.
"Our scoring percentage has been horrible," Lott said of the team's first five matches, a span in which THS scored only five times.
An outburst of four goals Sept. 16 against Piper gave THS nine goals through six matches with roughly 100 shots attempted.
"Now we're at nine percent instead of where we came into the game at about six percent," Lott said after the Piper win. "That's still not good enough and I think they're aware of that but they're getting chances, they're starting to focus on what they need to — put the ball into the goal."
Goals were the rule rather than the exception in Tonganoxie's wins against Piper and Eudora. THS got 10 goals from nine different players in just two matches.
Cody Martin, Joseph Parrino, Matt Briggs and Jake Willis scored against the Pirates. In Saturday's match with the Cardinals, Bret Koch, Matt Titterington, Marcus Titterington and Matt Saathoff scored a goal apiece and Tyler Woolworth finished with two goals.
Although scoring didn't come as easily on Monday night at Mill Valley — THS lost 2-1 in overtime — Briggs said if the team wants to continue the kind of success it enjoyed in recent wins, THS needs to keep up the intensity and keep the ball moving with passes.
"That'll do the trick," Briggs said.
Senior defender Keaton Schaffer said multi-goal games would go a long way toward helping THS (3-3-2) rack up some more victories.
"We've got to have a lot of scoring because our defense is there," Schaffer said. "We haven't allowed over two goals in a game this season."
Only Bonner Springs, which defeated THS 2-0 on Sept. 1, and Mill Valley (whose second goal came in overtime) have scored more than once against the Chieftains.
A defensive rotation of Kenny Schultz, Marcus Titterington, Willis and Schaffer playing in front of THS goalkeeper Mitch DeHoff has found great chemistry this season.
"Our defense meshes well together, we read off each other," Schaffer said.
Added Woolworth: "That's the best thing we have is our defense."
If the opposition does muster a shot against the defense, Schaffer said DeHoff is likely to knock it away.
"I'm not worried if there's a shot on goal … unless it's our own team taking it," the senior joked, referring to a few recent mishaps.
Late in the first half against Piper, a Pirates kick was deflected by Tyler Bartholomew, making the ball travel the opposite direction DeHoff was going. At Perry-Lecompton on Sept. 10, a shot bounced off the post, hit Schultz and went in.
Two of the nine goals THS has allowed through eight matches this season went off of the Chieftains.
"That's just our unlucky spot," Schaffer said.
Matches aplenty
With a 2-1 at Mill Valley on Monday night (Saathoff scored the Chieftains' only goal), Tonganoxie wrapped up a stretch of four matches in seven days. It was the busiest part of a steady September schedule that features, on average, one match every three days.
The effects of the grind are evident as Schaffer, Briggs, Woolworth and others nurse nagging injuries and play in some pain.
But Schaffer said injuries have a way of momentarily disappearing during matches and Briggs said live action is better than practice.
"Playing games are just fun," Briggs said. "The more we have is, I guess, easier."
THS will play at 6 p.m. Thursday in a road match at Bonner Springs.