Tonganoxie hopes to learn from mistakes
After going 1-3 at Rossville, Chieftains aim to turn things around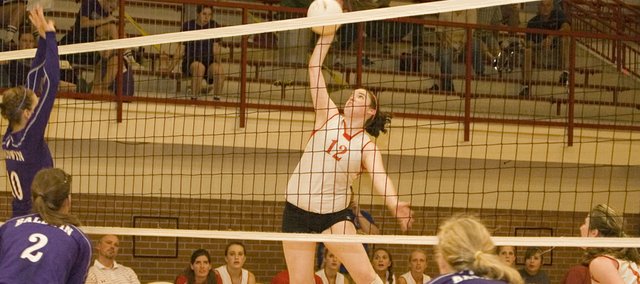 In its first tournament of the season, Saturday's Rossville Invitational, the Tonganoxie High volleyball team lost three of its four matches.
Now, the trick for the Chieftains will be to learn from that experience in order to avoid repeat performances as they dive head-first into the meat of their schedule.
THS defeated Sacred Heart of Salina at Rossville but lost to Wamego, Ottawa and Holton. Co-coach Brandon Parker said the problem wasn't the level of competition, calling the field "dead even." He said any team could have won it (Wamego took first place) and Tonganoxie was just lacking in certain areas.
"The three matches we lost, we were right there, but we weren't tough enough as a group," Parker said. "We weren't tough enough on the court, we weren't tough enough in the off times."
In a tournament setting, Parker said, players have to be mentally focused all day. He said Holton had the mental edge when THS met up with the Wildcats in the first round of tournament play.
Senior Abby Eisman admitted the players need to do a better job of concentrating.
"Definitely as a teenage girl, it's hard to stay focused," she said, noting the Chieftains need to think about playing even when they aren't on the court.
Parker said success will come if the team can find the focus and chemistry it lacked at Rossville.
"Hopefully they learned that we're going to have to do everything together as a team because right now we've got a lot of people who can do a lot of good things but right now we're not real good on chemistry," the co-coach said, adding that Tonganoxie will do everything it can to avoid becoming a talented team that never gels.
If other squads are ahead of THS (3-4) in the chemistry department, it shouldn't come as a surprise. Tonganoxie has played just seven matches so far while many prep teams have played at least twice as many.
Eisman expects Tonganoxie will catch up with the competition in a hurry.
"They have a little bit more experience this season, but I think that really everybody's going to be even," she said. "We should be getting up to our potential and working hard."
Parker hoped that would be the case going forward. He doesn't want to see his team quiet when it trails in a match, which he said was the case at Rossville.
"We can't do that," he said. "You have to be mentally, physically, spiritually engaged the whole time."
Tonganoxie Invitational
The Chieftains' relative lack of match experience this year should start to fade this coming week with a full slate of action, highlighted by Saturday's Tonganoxie Invitational.
The home invite features a deep field: Manhattan, Olathe East, Shawnee Mission Northwest, Great Bend, Gardner-Edgerton, Ottawa, Perry-Lecompton, Bishop Ward, Piper, Maranatha Academy and Eudora.
Parker said the team will soon find out if it has solved the problems that plagued it at Rossville.
"We have to learn from last Saturday or we'll get whopped," he said.
Eisman said the team now knows what areas need adjusting and THS will start doing that on Thursday at a Jeff West quad in preparation for the home tournament.
"There are a lot of big schools and tough teams to play on Saturday," she said.
The gauntlet doesn't end there for Tonganoxie. On Monday, THS plays host to Topeka-Hayden. The next day, the Chieftains head to Shawnee for a triangular with Mill Valley and Lansing.
"This is a tough stretch," Parker said. "Whether we get wins or losses, we hope we become better because of that stretch."