Family celebrates 100 years of reunions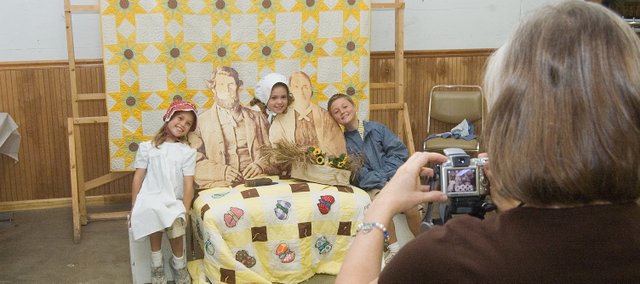 Alexis Igleheart spent some of her first Schenck family reunion taking a nap.
It wasn't that boredom was setting in at Sunday's family reunion. Instead, Alexis was doing what any week-old infant would be doing.
She was born Sept. 11 and was named the youngest relative at the event, which was quite the occasion.
The descendants of John and Mary Schenck were celebrating 100 years since their first family reunion.
On Sunday, roughly 140 family members gathered at the Leavenworth County Fairgrounds for food and fellowship with family.
One of this year's organizers, Nancy Seifert, of St. Peters, Mo., a great-great granddaughter of John and Mary Schenck, said the reunion normally averages about 30 relatives and the past few years has been held in Topeka.
But with it being 100 years since the first reunion, a bigger event was planned in Tonganoxie for its proximity to the family's original homestead near Springdale, which is north of Tonganoxie.
John and Mary Schenck married March 13, 1851, and had 11 children, but Mary died shortly after giving birth to twins when they lived in Indiana. John remarried and the family moved to Kansas. He remarried again after his second wife died. He later died in 1879, just a few years after his first wife.
"I think that made for a strong bond," Seifert said about John and Mary Schenck's children, and subsequently, the tradition of a longstanding family reunion.
One of the older descendants of the Schencks, Norman Zinn, of Omaha, Neb., is 85. Known affectionately as "Uncle Norman" to family members at the reunion, Zinn was greeted with warm hugs and handshakes from his family.
Zinn said he's been to several family reunions, but this one was special. In fact, he saw a relative from the state of Washington he hadn't seen in about 25 years.
"Honestly, it's very, very interesting," he said.
At the reunion, family quilts were on display, as were family artwork, a family tree that people in attendance could place their family "leaves" on and life-size cutouts of John and Mary Schenck. Family members took photos with their "ancestors" wearing vintage bonnets and other clothing.
In addition to Washington, family traveled to Tonganoxie from as far away as Oregon, Texas, New Mexico and Colorado, and as close as Missouri and Nebraska.
Other activities the family participated in were a digital scavenger hunt in which teams took photos of items they were to search for and then turn in their cameras, as well as a memorial service at the Springdale Cemetery, a storytelling and talent show and church services at Tonganoxie Evangelical Friends Church, where family members once were members.
Sylvia Kesinger of Tonganoxie, who is a great-great-granddaughter of John and Mary Schenck, is the grandmother of newborn Alexis.
As her grandmother chatted about family history, Alexis, who is a seventh-generation descendant, slept in her grandmother's arms.
For the milestone reunion, Kesinger made a total of four large sheet cakes, as well as mints. She said she used 13 cake mixes to create all of her reunion cakes. Kesinger also baked cakes for the reunion 25 years ago.
She said it was "really great" to have the milestone reunion in Tonganoxie because of the rich family history in the area.