Five Questions: Flu Season
Health department discusses vaccinations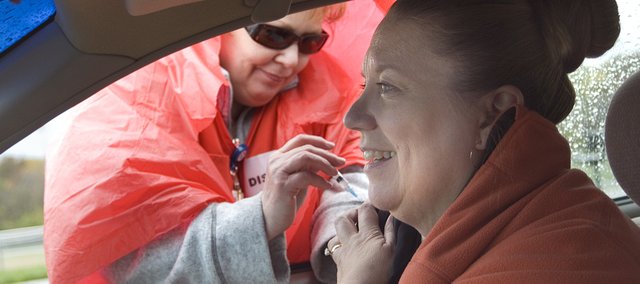 Karen Savage, Leavenworth County Health Department coordinator, discusses this year's flu season.
Q: When and where can people get flu shots in Leavenworth County?
A: Leavenworth County Health Department is sponsoring a drive-thru flu clinic from 9 a.m. to 1 p.m. Oct. 12 at Tonganoxie Middle School on Washington Street. The cost will be $20 or will be covered by Medicaid or Medicare Part B. Also, many drugstores, like CVS and Walgreens, are offering flu shots and some private physicians, as well.
Q: How often should someone get a flu shot?
A: Yearly.
Q: How well does the shot protect people from catching the flu?
A: Every year there are three strains identified to go into the seasonal flu vaccine. These strains are developed very early in the year before flu season in the United States. Dominant strains may have changed before they reach the U.S. Per Mayo Clinic, "when there is a match between flu vaccine and the circulating strain, effectiveness is 70 to 90 percent."
Q: Who is most at risk for severe complications related to a flu virus?
A: Persons aged 65 and older; residents of nursing homes and other long-term care facilities; adults and children with long-lasting disorders of the lungs or heart — including children with asthma; adults and children with diabetes, kidney disease or weakened immune systems; women who are in their second or third trimester of pregnancy during flu season; and health care workers, household members, and others who are in contact with persons at high risk for influenza and flu-related complications.
Q: If someone chooses not to get a shot, what are some other preventatives for the flu?
A: Wash your hands, cover your mouth when coughing or sneezing, and stay away from people who are sick.