THS

rallies with fourth-quarter scores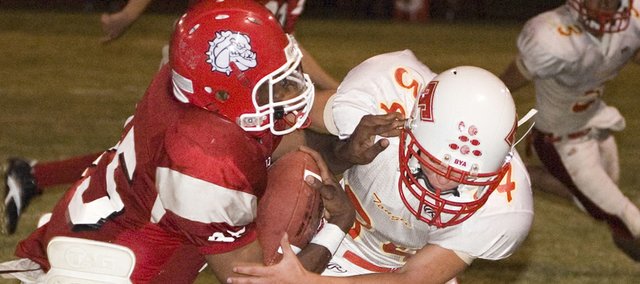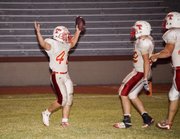 Kansas City, Kan. — After a groggy first half in which the Chieftains' only touchdown came on special teams, the Tonganoxie High football team finally played with some gusto in the last two quarters at K.C. Wyandotte for a 35-18 road win.
Tonganoxie (3-1) struggled in the first half because it kept giving the ball away. Three THS turnovers combined with 74 yards of offense gave the Bulldogs (1-3) a five-point halftime lead that they stretched to 11 in the third quarter.
That deficit seemed to stir the Chieftains, who started gouging WHS with big gains on the ground and went on an eight-play, 80-yard drive capped by a five-yard touchdown run by senior Jeremie Maus.
By the end of the third quarter, Tonganoxie's deficit was just three, and with three touchdowns on its first seven plays from scrimmage in the final quarter, THS avoided a disappointing loss.
On the second play of the fourth, Maus scored on a seven-yard run that gave the Chieftains the lead for good.
The next time THS got the ball, junior quarterback Jeremy Carlisle created a one-play drive with a 64-yard touchdown run. Carlisle ran even farther — 68 yards — on the third play of Tonganoxie's next possession for another score that put the game out of reach.
With 9:21 remaining in the first quarter, junior Jeff Sims recovered a fumble in the end zone by Wyandotte's punter.
Carlisle finished with 149 rushing yards. Maus racked up 82 on the ground and senior Austen Holloway carried nine times for 80 yards.
Next week, Tonganoxie will play host to Santa Fe Trail at 7 p.m.
Score by quarters
THS 7 0 8 20 — 35
Wyan. 12 0 6 0 — 18
Scoring
T — Jeff Sims fumble recovery in the end zone. Amos White kick.
W — Brion Milstead 95 interception return. Kick failed.
W — Derrick Rolls 1 run. Conversion failed.
W — Rolls 2 run. Conversion failed.
T — Jeremie Maus 5 run. Dylan Faulconer pass from Jeremy Carlisle.
T — Maus 7 run. White kick.
T — Jeremy Carlisle 64 run. White kick.
T — Carlisle 68 run. Kick failed.
THS rushing
Jeremy Carlisle 9-149, Jeremie Maus 8-82, Austen Holloway 9-80, Jeff Sims 2-14, DJ Lindsay, 6-9, Shawn Marin 1-7, Jason Espeland 2-1.
THS passing
Jeremy Carlisle 4-11-32 one interception, Jeremy Wagner 1-2-7.
THS receiving
Justin Jacobs 2-24, Dylan Scates 1-7, DJ Lindsay 1-5, Dylan Faulconer 1-3.