THS

settles for silver at invitational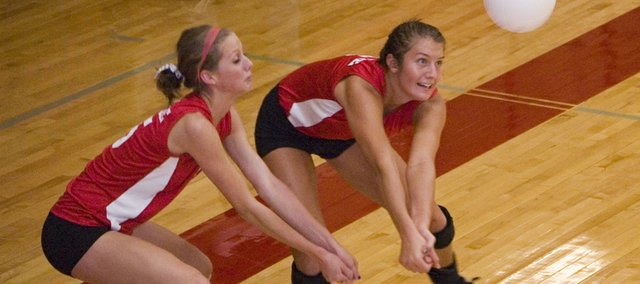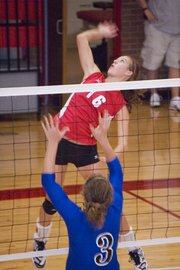 Saturday wasn't golden for the Chieftains volleyball team at the Tonganoxie Invitational, but after a disappointing morning in pool play, they regrouped to win their final three matches.
The 12-team tournament, eventually won by Manhattan, had three pools of four teams and Tonganoxie High was in trouble early after losing its first two matches in the morning against Olathe East and Gardner-Edgerton.
However, the Chieftains won against Perry-Lecompton in their final pool match, earning a bye in the first round of the silver bracket. Tonganoxie then defeated Ottawa and Eudora in that bracket to finish in seventh place at the invitational.
After losing the first game of the silver championship match with Eudora, 26-24, THS (8-7) won its next two, 25-16 and 25-17.
The Chieftains trailed, 14-13, in the second set before rallying with strong service from senior Ali George, whose four aces were part of a 12-2 run to close the game.
In the final game, after a long day of volleyball, Tonganoxie trailed early before taking the lead for good at 4-3. Though Eudora kept it close until the end, THS closed the day on a 9-2 run that featured a kill from Danielle Miller, two aces from Shyanne Gergick and a pair of nasty kills from Molly O'Hagan — including one on the final point that ended the day with an exclamation point.
On Monday, Tonganoxie plays host to Topeka-Hayden at 6 p.m.
Tonganoxie Invitational
1. Manhattan
2. Gardner-Edgerton
3. Great Bend
4. Bishop Ward
5. Shawnee Mission Northwest
6. Olathe East
7. Tonganoxie
8. Eudora
9. Ottawa
10. Perry-Lecompton
11. Piper
12. Maranatha Academy