Chieftains run at crowded Rim Rock
Jeannin finishes 25th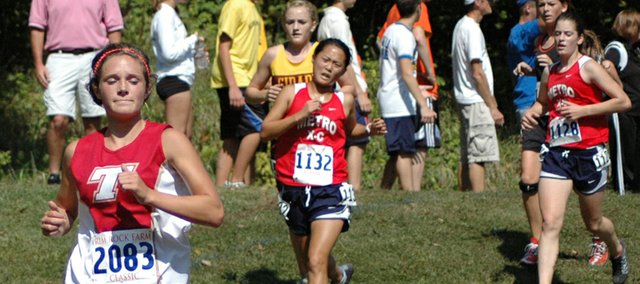 Photo Gallery
Chieftains run at Rim Rock
Tonganoxie High's cross country squads competed with dozens of other prep runners on Saturday at the Rim Rock Farm Classic.
Four days after running in the Tonganoxie Invitational, the Chieftains' cross country teams headed to another big race — the Rim Rock Farm Classic — on Saturday.
Tonganoxie High was just one of more than 80 teams from the Midwest competing in the annual mega-event outside of Lawrence.
The Chieftains competed in the Blue division at Rim Rock, and the girls finished 21st out of 24 teams, while the boys were 25th out of 26.
"There are more teams and more runners every year, which makes it tougher," THS coach Phil Williams said, "but I think our kids get a lot out of the competition."
Senior Andie Jeannin thrived at the event, placing 25th with a time of 17:35.45.
"Andie Jeannin ran one of her best races ever," Williams said. "She beat several runners who had beaten her earlier in the year."
Caleb Himpel had the best time for THS boys. He placed 93rd out of 192 runners with a time of 19:28.52.
Even though Tonganoxie's times weren't as low as they were earlier in the week at the team's home invitational, Williams said the Chieftain runners showed well.
"The times at Rim Rock are never fast compared to other courses," Williams said, adding that the team is still battling illnesses, which affected team scores.
"Just one or two having an off race can make 10 or more places difference on team standings," the coach said.
Tonganoxie's girls finished sandwiched in between a pair of Kaw Valley League foes with Basehor-Linwood placing 20th and Bishop Ward taking 22nd. The boys finished one spot ahead of BLHS.
"I was hoping our boys would finish higher than they did individually," Williams said, "but they should improve as we enter the next few races."
Next on the slate for the cross country teams is the Lansing Invitational, which will be held in Leavenworth at the University of Saint Mary, on Thursday at 4 p.m.
Rim Rock Farm Classic
THS results
Girls Blue 4K
25. Andie Jeannin, 17:35.45; 75. Alex Hauk, 18:42.42; 120. Nikki Beggs, 19:32.46; 152. Shelby Maxon, 20:19.8; 171. Sarah Williams, 21:05.3; 173. Nicole Gersbeck, 21:10.81; 180. Jessica Somers, 21:45.34.
Boys Blue 5K
93. Caleb Himpel, 19:28.52; 128. Justin Soetaert, 20:15.98; 141. Keith Slater, 20:24.92; 156. Brady Field, 20:38.61; 170. Dalton Harrington, 21:07.7; 173. Joel Dunning, 21:14.32; 179. Cooper Gish, 21:40.46.