Lineup tweak not enough for
THS

soccer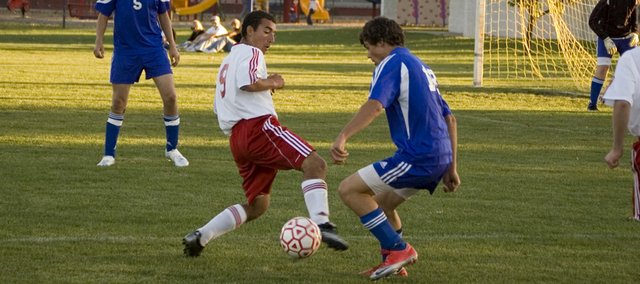 Photo Gallery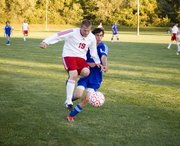 Chieftains soccer falls to Kaws
Playing with a shuffled lineup on Monday against Perry-Lecompton, Tonganoxie High's soccer team lost, 3-0.
With one key cog out of the Tonganoxie High soccer lineup and others in new positions, the Chieftains had trouble stopping Perry-Lecompton in a 3-0 loss Monday night.
THS defender Jake Willis was out for the home match at Chieftain Park after receiving a red card in the second half of a 4-1 loss at Bonner Springs on Thursday. But that wasn't the only thing different about Tonganoxie's look. Usual forwards Bret Koch and Tyler Woolworth, the team's co-captains, played back on defense instead of attacking up front.
Coach Ken Lott said he was looking for a more effective lineup.
"We made some changes in the lineup to try and strengthen the defense a little bit more and not worry about playing offense as much, but even with that we didn't do a whole lot of things differently," the coach lamented after the loss.
Koch said the move took some getting used to, especially with the Kaws bringing seven attackers.
"We had offensive players playing defense and we were kind of trying to adapt to switching," Koch said.
Goalkeeper Mitch DeHoff said the change didn't go as smoothly as possible.
"It's definitely hard to adjust to," DeHoff said. "It just comes down to knowing the person beside you and you have to trust them and know what they're doing."
The Kaws only scored once in the first half, when Tonganoxie (3-5-2) kept things fairly tight and had scoring opportunities of its own. Tyler Woolworth, Joseph Parrino, Marcus Titterington, Cody Martin, Matt Briggs and Tyler Bartholomew all got off a shot attempt in the first 40 minutes. THS chances, however, were nearly nonexistent in the second half as PLHS dominated possession and added two goals.
"We pretty much had them where we wanted in the first half and knew what to expect," Lott said, "but when you're moving forward on a counter-attack and you can't keep possession and get it up to the front line without losing it on the first touch, there's nothing you can do."
The coach said the Chieftains must have more consistent play from their forwards.
"Our mishaps turned it over," he said.
Those mistakes just made Perry-Lecompton more assertive.
"They were fast and they were always going to the ball," DeHoff said. "They just beat us to everything."
Tonganoxie now has six matches and three weeks left in its regular season. Lott said there are plenty of things to work on in that time. After Monday's loss, he was specifically concerned with how the players fight for the ball.
"When you wait for the ball to be played, you're obviously on the short end of the stick," the coach said.
The players named some other areas in need of improvement.
"We need to start coming out stronger. A couple of games we've come out flat," DeHoff said. "That's really what's been shooting us in the foot all season."
Koch said better chemistry wouldn't hurt either.
"I still don't feel like we have that team bond that we should yet," he said, noting the team needs to improve communication as well. "If we don't step it up, we won't make it long through postseason."
The Chieftains' next match is Wednesday at 6 p.m. at Basehor-Linwood.