Chieftains avoid letdown after slow start to invitational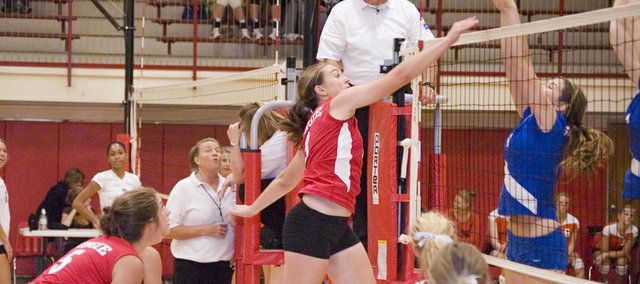 Photo Gallery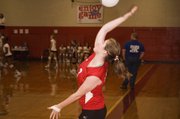 THS volleyball wins silver bracket
After an 0-2 start at the Tonganoxie Invitational, the Chieftains won their final three matches and the silver bracket to finish seventh.
Finishing seventh out of 12 teams at a tournament wouldn't qualify as spectacular.
Not great. Not bad. Just kind of average.
But average wouldn't accurately assess the kind of day the Chieftains volleyball squad had Saturday at the Tonganoxie Invitational.
The day started below average for Tonganoxie High — that's why it ultimately finished seventh at its home tournament — with losses to Olathe East and Gardner-Edgerton.
Those results guaranteed the Chieftains no chance of playing in the gold bracket for the championship.
Armed with that disappointing knowledge, however, the Chieftains turned a corner and won their final three matches of the day: first, while still stinging from the 0-2 start, against Perry-Lecompton in pool play, then versus Ottawa and Eudora to win the silver bracket.
Relegated to the consolation bracket, castaways at their own tournament, doomed to finish the invitational in the west campus gym, where they never had played before, Brandon Parker said he and fellow THS co-coach Tiffany Parker were glad the Chieftains avoided a letdown. They told the players instead of worrying about what bracket they were in, they needed to look at the final three matches as a chance to improve.
"We were happy that the kids responded to that," the co-coach said.
Between the 0-2 start for THS and the 3-0 finish, a few things changed, and both had to do with cohesiveness.
"We had no rhythm in the morning. We started to, but we couldn't finish a match," Parker said.
After the loss to GEHS, junior Molly O'Hagan said the team had a big talk to address a specific issue.
"It wasn't as much our play as our teamness," she said, inventing a word on the fly. "We were just kind of going in different directions."
The Chieftains played more like a team in their three victories. And that change came about in part due to another modification the coaches made. In the wins, THS established freshman Hannah Kemp as its setter and brought in senior Ali George for serving and some passing. Those adjustments made all the difference.
Finishing the invite strong, sophomore Shyanne Gergick said, was critical.
"It was the most important part, I think, of our day, of our season, because we haven't been the strongest in our team play," she said.
It took a strong showing from the entire roster to pull off what the Chieftains hope could be a season-changing turnaround. It wasn't just George serving or Kemp passing out assists. There was the solid net play from Danielle Miller, Abby Eisman and Jenny Whitledge. Brooklyn Kerbaugh, battling an illness, gave all she had, then was replaced by Maggie Franiuk, who thrived defensively. O'Hagan rocketed away kill after kill.
It all added up to THS looking like a different team. The Chieftains certainly had a different result against Ottawa, winning 25-23 and 26-24 a week after being swept by the same team at Rossville.
"Our biggest question mark had been our toughness," Parker said. "They showed a lot more toughness beating Ottawa in that second game, coming back from being down."
They displayed more of that in the silver bracket title game against Eudora. After losing the first game, 26-24, THS rallied with wins of 25-16 and 25-17.
"It feels like you get to a point where you're so tired, you just want to finish," George said. "You have that drive that you want to get it done."
That attitude is what salvaged a possibly disastrous, nearly 12-hours-long invitational.
"It was a good way to end kind of a crappy day," O'Hagan said.
Parker was proud of the team's play in a consolation setting.
"It's a tough emotional swing throughout the day. A lot of teams get to this point and give up," Parker said.
Gergick said the players refused to let the day be wasted.
"We came over thinking, 'You know what? We're going to put it to them and prove to the gold bracket that we shouldn't be over here,'" she said.
With positive strides after a rough start, Parker thinks the team is improving, and just needs to establish a rotation.
"We've got a lot of things to work on," he said, "but we could've laid down and died over here in the silver bracket … and we didn't."
With a loss to Topeka-Hayden on Monday night, Tonganoxie's record was 8-8 heading into a Tuesday night triangular at Mill Valley.