THS

football gets wake-up call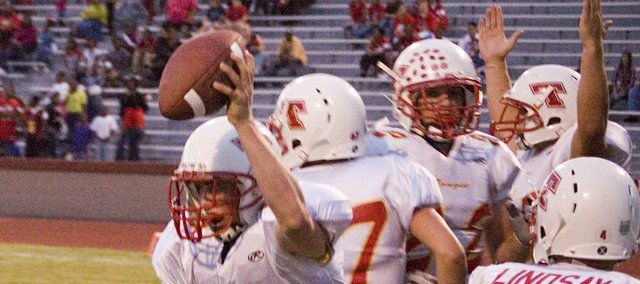 Photo Gallery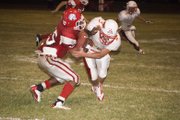 Chieftains recover at Wyandotte
The Tonganoxie High football team rebounded from a rough start to win, 35-18, at Wyandotte on Friday.
Kansas City, Kan. — Despite its worst two quarters of football this season, Tonganoxie High managed to abandon more dreadful play in the second half Friday at Wyandotte and rally for a 35-18 victory.
After mustering only 74 yards from scrimmage in the first two quarters and turning the ball over three times, including an interception that was returned 95 yards for a Bulldogs score, the Chieftains used an uptempo, ground-focused attack in the second half at Roy A. Edwards Stadium to pick up 307 more yards of offense and finish the game on a 28-0 run.
"We were horrid the first quarter — and that's being kind," THS coach Mark Elston said.
Although the Chieftains (3-1) took a 7-0 lead in the opening quarter, it was nearly handed to them by Wyandotte (1-3). A high snap on a punt attempt in the WHS end zone was mishandled as DJ Lindsay pressured the punter into a fumble before Jeff Sims came sweeping in to cover the ball up for a score.
Other than that highlight and a 77-yard return by Shawn Marin on the opening kickoff, Tonganoxie gave the ball away three times and gained 31 yards of offense on 14 first-quarter plays.
"We won't win another ball game all year if we're that inefficient in the first half," Elston said.
Senior running back and linebacker Jeremie Maus said the opening half was all too familiar.
"It was looking like the Osawatomie game all over again," Maus said, referring to the team's only loss this season.
The Chieftains didn't want a repeat performance and used halftime to get fired up. Elston said he only talked to the team for about five minutes, then the staff left the players alone in the locker room to work some things out for themselves.
"Sometimes you've got to let 'em sink or swim, and they decided to swim in the second half," the coach said.
Although WHS scored on the opening possession of the third quarter, THS responded with a 2:11, eight-play, 80-yard scoring drive. A five-yard touchdown run from Maus with 5:03 to go in the quarter gave the team its first offensive score of the night and all the momentum it needed.
"We were pumped up from there and just kept going," Maus said.
The Chieftains followed that score with three more on its final three possessions. Elston said he made an effort to have the offense run a play every 15 seconds in order to wear out the Bulldogs.
"We don't have the horses up front just to push people around," he said. "We've got to attack and attack and attack."
As the WHS defense wore down, holes started opening up for Tonganoxie backs, who ran through them with ease. Whether it was Maus, Austen Holloway, quarterback Jeremy Carlisle, or even backup Sims, there was plenty of yardage to go around. Carlisle said it was because of tempo and execution.
"Our line just kept going at it and going at it," he said. "We'd get five-yard, 10-yard, seven-yard gains, then all of the sudden at the end, me and Maus were able to break it out big for touchdowns."
As the fourth quarter began, Tonganoxie's superior conditioning was abundantly clear. THS scored three touchdowns on seven plays from scrimmage. First Maus scored again, breaking a few tackles with a seven-yard run. Then Carlisle had touchdown runs of 64 and 68 yards to officially finish off WHS and erase any memory of the wretched first half.
Carlisle said the horrific start was the result of the team's attitude, which he described as "cocky" instead of confident.
"Obviously, in the first half, it showed," said the quarterback, responsible for two of the team's early turnovers. "We just didn't execute at all. We were making too many mistakes."
Next up for Tonganoxie is a 7 p.m. Friday home game with Santa Fe Trail, a team, like Wyandotte, that hasn't had much success the past few years. Elston said Tonganoxie must learn from its ugly first half at WHS to defeat a Chargers squad that will be hungry for a victory.
"We've got to be able to come out and attack and establish dominance right off the bat so we don't get in this predicament," Elston said.