Without key runners,
THS

still performs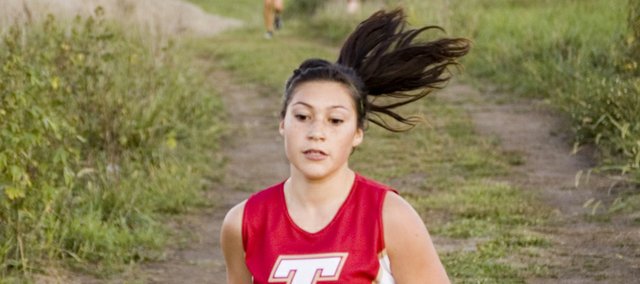 Photo Gallery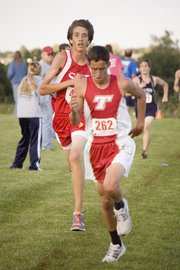 THS cross country invitational
Tonganoxie High hosted its annual invitational on Tuesday. The girls team finished sixth and the boys were eighth.
An illness outbreak has been making its way through the Tonganoxie High student population lately but seemingly no demographic has been hampered by it more than the Chieftains' cross country teams.
Such was the case on Sept. 22 at the Tonganoxie Invitational.
Patrick Rachford didn't feel well but ran while Dalton Harrington, Shelby Maxon and Cristina Rubio missed the home meet due to sickness.
The end result was a sixth-place finish for the THS girls and an eighth-place finish for the boys. Coach Phil Williams said that wasn't too bad, all things considered.
"Actually, I thought we ran fairly well considering two of our top five (on both teams) were either out or slowed," Williams said. "If you were to put those people in their normal places, I think our girls would have been third and our boys fourth."
Justin Soetaert agreed the boys would have been better off with Harrington.
"That would've been a big boost," he said. "Him and Caleb (Himpel) and Patrick are really standout sophomores this year."
Himpel was the boys' top runner in the 5K, finishing 18th with a time of 17:59. Soetaert was impressed with his teammate's performance.
"Caleb ran a good race today," Soetaert said. "He was smokin' at first … the whole race, actually."
Soetaert ended up with the second-best time among Tonganoxie boys, finishing 31st (just one spot away from a medal) with a time of 18:36. He accomplished that by digging deep for the final 100 yards.
"I ran a slow second mile to see if I could stay up the third mile and just figured I'd put it all out there for the last (part)," Soetaert said. "I think it's easier to start off back and pick people off than it is trying to hold people off because you don't know who's coming, and where they're coming from."
Jeannin, Hauk lead girls
With medals going to the top 30 runners in each race, the THS girls sent two to the award stand and had one more just miss out.
Andie Jeannin was the top Chieftain on the 4K course, placing ninth with a 16:44 finish. Alex Hauk placed 18th and and Nikki Beggs was 31st.
Hauk said running on the team's home course had a different feel.
"I feel like I have to be more confident in myself just because this is our place," the junior said.
Finishing the race in 17:14 left Hauk just shy of cracking the top 15, which she had been aiming for, but she was close.
"I was happy with my time," she said. "Eighteenth isn't bad for me. I'm happy with that."
The team's performance without two of its top runners also made Hauk happy.
"We're kind of getting closer and closer, and all of our times improved a little bit," she said.
Erratic schedule
When Tonganoxie took the course for its home invite, it was the first time the Chieftains had a varsity race in 12 days (the previous one was Sept. 10 at Atchison County).
Hauk said she had fresh legs at the invitational and the break helped her a lot.
On the other hand, Soetaert viewed it as problematic because he and Rachford had missed two practices leading up to the home meet as they traveled out of town with the THS debate team.
In past years, Tonganoxie would compete at the Bonner Springs meet (Sept. 19) but after multiple runners suffered from nagging overuse injuries during this same stretch (which includes the Rim Rock Farm Classic) last season, Williams decided to take the BSHS event off the Chieftains' schedule.
Having the Tonganoxie Invitational and Rim Rock, which took place on Saturday, on the same week, Williams said, can affect the runners.
"It takes several days to recover from a hard race, and we just don't have that time the way it is," Williams said. "Hopefully, the calendar will change soon and Rim Rock won't be the same week as Tongie."
Tonganoxie Invitational
Sept. 22
Girls 4K
Team scores
1. Mill Valley, 39; 2. Basehor-Linwood, 79; 3. Jeff West, 110; 4. K.C. Christian, 112; 5. Santa Fe Trail, 116; 6. Tonganoxie, 142; 7. De Soto, 145; 8. Anderson County, 171; 9. Pleasant Ridge, 199.
Individual results
1. Taryn Brees, JWHS, 15:50; 2. Kelsey Wakefield, MVHS, 16:17; 3. Hannah Tush, BLHS, 16:17; 4. Kayla Peterson, BLHS, 16:18; 5. Kristin Tippin, KCC, 16:21.
THS results
9. Andie Jeannin, 16:44; 18. Alex Hauk, 17:14; 31. Nikki Beggs, 18:02; 59. Nicole Gersbeck, 19:09; 62. Jessica Somers, 19:17; 65. Sarah Williams, 19:29; 67. Lindsay Cox, 19:34
Boys 5K
Team scores
1. Mill Valley, 55; 2. Santa Fe Trail, 69; 3. Anderson County, 85; 4. K.C. Christian, 146; 5. Wellsville, 159; 6. Jeff West, 164; 7. Eudora, 169; 8. Tonganoxie, 180; 9. De Soto, 190; 10. Piper, 193.
Individual results
1. Jacob Rohrer, MVHS, 16:44; 2. Ivan Espinosa, EHS, 16:58; 3. Adam Pineau, Pleasant Ridge, 17:01; 4. Arthur White, ACHS, 17:06; 5. Brian Mosier, PHS, 17:08.
THS results
18. Caleb Himpel, 17:59; 31. Justin Soetaert, 18:36; 43. Keith Slater, 19:02; 52. Patrick Rachford, 19:24; 55. Brady Field, 19:36; 58. Joel Dunning, 19:54; 62. Cooper Gish, 20:42.