Board takes close look at long-term growth, gives nod to hiring Title I teacher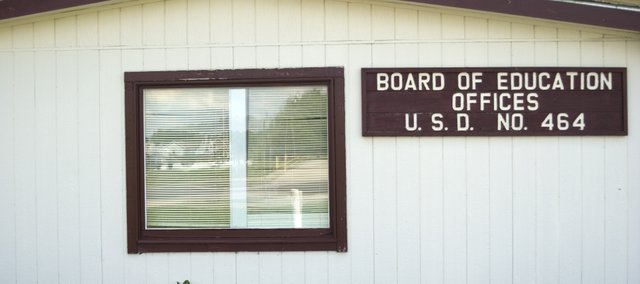 A bond issue or forming a cooperative with the Leavenworth County Fair Association to utilize space at the fairgrounds for district needs could be short-term solutions to crowding classrooms in Tonganoxie.
In the very long-term, the district could look to build a new high school in the southern portion of the city as the landscape changes with the advent of the new turnpike interchange.
Jerry McCall, with Educational Consulting Services, offered some possible options to address space limitation issues in the district now and potential obstacles down the road.
For the past six months, McCall has been doing research on the district and the surrounding area to help the district in facility planning.
He said there were space issues currently at all schools, noting high school science classrooms were "marginal."
And he said the district could look at a bond issue of $12-$15 million to address some of those issues. McCall suggested a 66,000-square-foot building. His figures come with $150 per square foot and costs of equipment and other factors.
McCall listed current planning considerations, which he called phase I, 2010-2015, with enrollment projections of 2,000-2,500:
• At the elementary school, consider utilizing the present school for pre-kindergarten through second grade and phasing out older detached metal buildings and portable units.
• At the middle school, consider utilizing the present facility to accommodate educational programs for grades 3-5 and consider a new facility at the site to accommodate educational programs for grades 6-8.
• On the high school campus, consider an addition to the existing facilities to accommodate a media library, science classroom labs and business technology labs. McCall said the addition connecting the two facilities should provide space for efficient student traffic patterns, student work centers, gathering areas and improved safety and security.
• Regarding future site and facility concepts, McCall suggested relocating district offices and transportation services and consider cooperative use of facilities (such as the fairgrounds, which is not heavily used year-round). He also said the district could consider a new educational park/community events center several miles south of the present city limits. He said the future secondary facility/academic center should have about 120-160 acres. The district would need to acquire land for such a plan.
The overall planning budget would be about $15-$20 million, McCall said.
"How can we use every brick to its fullest, because you have tremendous investments," McCall said.
The most recent census estimates show Leavenworth County has increased in population by about 20,000 people.
As for the Tonganoxie School District, enrollment has increased by about 480 students between the 2000-01 school year and this school year.
"That's larger than many communities in the state of Kansas," McCall said comparing the enrollment increase to populations of small Kansas communities.
Superintendent Kyle Hayden later interjected with more numbers.
Comparing Tonganoxie enrollment this year to enrollment of other Kansas schools in 2008-09, Tonganoxie ranks 12th with 692 students. Lansing had the largest elementary school in 2008-09 with 1,016 students; Atchison Elementary School was second with 856. Tonganoxie Middle School (605) ranked 27th in the state, while Derby Middle School was the largest with 989. Tonganoxie High School, meanwhile, was 68th with 611 compared to the largest school, Wichita East, with 2,239. Hayden said this year's Tonganoxie numbers were compared to other schools' 2008-09 numbers because state enrollment numbers haven't yet been released.
School board member Mildred McMillon said the priority should be crowding at TES.
"I think our immediate interest should be elementary," McMillon said. "We spent a lot of money on the high school and things promised to the elementary (school) didn't get done."
McMillon was referring to the $25.4 million bond issue that passed in 2004 and called for a new middle school and renovations to the high school and elementary school. Though TES went from a K-6 building to K-4 with the building of the new middle school, school officials have voiced concerns about overcrowding again as enrollment continues to climb.
McCall said some aspects of the middle school also were marginal, which board member Diane Truesdell said was frustrating considering how new the facility is and it was up-to-grade when it was built just a few years ago.
"It's upsetting," Truesdell said.
McCall said including all the amenities needed within a certain pricetag for a bond issue can be a factor, which board member Leana Leslie said was the case with some aspects of the bond issue.
McCall went on to talk about the possibility of American Recovery and Reinvestment Act money being available for improvement projects.
He said it could pay for interest on bonds, and as an example, said that would be $2 million on a $5 million bond issue.
"That's not chicken feed," McCall said.
In regards to the 80 acres where Tonganoxie Middle School is built, McCall suggested a master plan in which more buildings could be added in the future.
The district contracted with McCall in February. His services in total will cost about $20,000, but will be ongoing in nature as the district develops its master facilities plan.
Board approves Title I position
After the facility planning session, the school board unanimously approved adding an at-risk math specialist at Tonganoxie Elementary School. The district will begin its search for another teacher immediately.
The school board next will meet in regular session at 6 p.m. Monday, Oct. 12 at the Tonganoxie High School west campus library.