Bulldogs rallying all week long for McLouth homecoming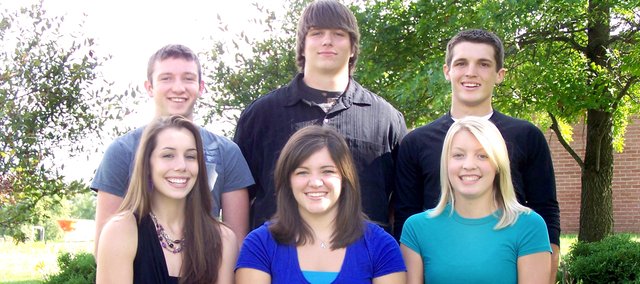 McLouth High School is having a "Rally at the Dog Pound."
That's the theme this year for homecoming week, which started Monday with the first dress-up day.
Monday was Hollywood Stars Day, while Tuesday was Super Heroes Day. Today is Caveman Day, Thursday has been designated Farm/Hillbilly Day and Friday is Purple and Gold/McLouth T-shirt Day.
For each day, a male and female will be announced as having the best outfit for the particular theme, with each winner taking home $10 cash.
Other activities are going on throughout the week as well.
American Idol, McLouth's Got Talent, Dancing with the Teacher and Best Dance Crew, all contests based on television talent shows, took place Tuesday.
Today, a Buff and Tuff game will start at 6 p.m., powder puff games at 7:45 p.m., a scavenger hunt at 8:30 p.m. and bonfire with s'mores at 9 p.m.
Friday, a parade down Union Street gets started at 2:15 p.m., with a class vs. class tug-o-war at 2:30 p.m., and candidate games at 2:45 p.m. At 3 p.m. a pep rally will get under way.
At 7 p.m. Friday, McLouth High will take on Doniphan West at Stan Braksick Sports Complex. Homecoming coronation will take place at halftime.
King candidates are Dakotah Cline, son of Deryl Cline and Lee Koch; Kyle Mabary, son of Larry Mabary and Sherri Hoffman; and Chris Culter, son of Thomas Culter and Elisa Glassel Culter.
Queen candidates are Cassidy Bristol, daughter of Troy and Leah Bristol; Katie Walbridge, daughter of Doug and Sandy Walbridge; and Kylie Shufflebarger, daughter of Steve and Kelly Schneider and Rod and Kim Shufflebarger.
The homecoming dance will be from 8-11 p.m. Saturday.