Neighbor: Dirk Scates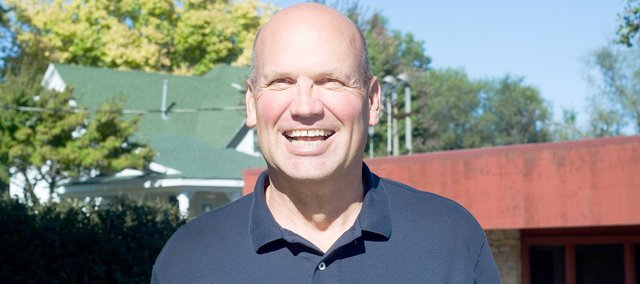 Occupation: Senior minister, Tonganoxie Christian Church.
Family: Wife, Shelley; three children, Drew (19), Dylan (17) and Sagan (15).
Place of birth: Phoenix, Ariz.
Q. When did you move to Tonganoxie and what brought you here?
A. We moved to Tonganoxie in August 2003. I was called to be senior minister of Tonganoxie Christian Church when Ben Saathoff retired.
Q. What's the biggest risk you've ever taken?
A. Besides agreeing to this inquisition…I would say offering God my life to be used for His purposes and for whatever He chooses. It was a big risk, but the best one I ever made.
Q. What's the best piece of advice you've ever been given?
A. That I should believe in Jesus Christ and accept Him as my Lord and savior.
Q. What three things would you want people to know about you?
A. I'm all in when it comes to God; I am not special because I am a minister. I am no different than anybody else. I mess up a lot; and I love to help people any way I can. I'm not big on rules, I just try to do the right thing.
Q. What did you want to be when you grew up?
A. Wide receiver for the Dallas Cowboys in the NFL.
Q. What's your ideal vacation spot?
A. Anywhere with my wife and kids. It could be in the back yard or a beach in Jamaica.
Favorite things:
Song: My favorite songs this week, local talent, are "Hold My Heart" by Ben and Jonas Myers … a Tenth Avenue North song, and "I'm All In" by Jamie Carlisle, composer and arranger.
Color: Purple.
Food: Jamocha almond fudge ice cream.
More like this story