Post office could open in late April, early May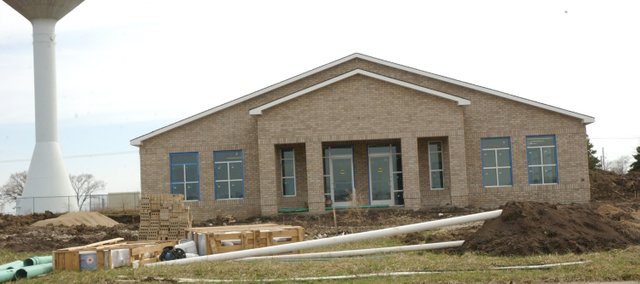 Though Postmaster Ron Hubbard has not been given a move-in date for his department, he hopes the new U.S. Post Office in Tonganoxie will open in late April or early May.
Hubbard said the new post office itself, at the southeast corner of Laming Road and Woodfield Drive, just north of U.S. Highway 24-40, is complete. He estimated about 75 percent of equipment installation was complete. The final step is completing the parking lot.
"That's what we're waiting on," Hubbard said.
There will be some changes with regards to P.O. boxes, but Hubbard said people would be able to keep their same box numbers once the new post office opens.
"Everyone will keep the same number, but there will be a new set of keys," Hubbard said.
New boxes will be installed, thus requiring new keys. Hubbard said when residents with P.O. boxes come to the new post office for the first time, they can swap out their old keys for the new ones.
A more noticeable change will come for some P.O. box holders in the form of charges. Businesses and residents near the downtown post office aren't charged a fee for the P.O. boxes because of their close proximity to the post office. Those businesses and residents will be able to retain those numbers, but could have to pay because they no longer are in close proximity or arrange other means for delivery.
Hubbard said those changes would take place in stages and notices would be placed in boxes.
The postmaster also said he would be discussing with city officials the possible installation of a neighborhood lock box for downtown merchants. He wants to pursue a location where it wouldn't be an "eyesore" but from where everyone could retrieve their mail.