Competition showcases student creativity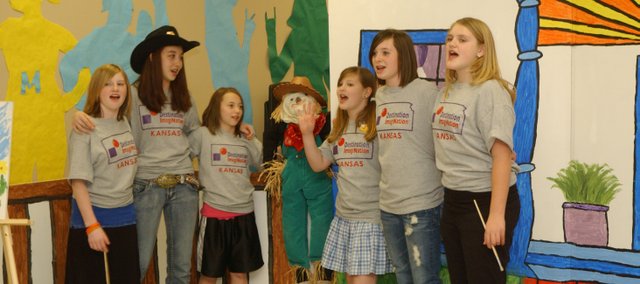 Like many sunflower state natives, Emily Jardes has heard "The Wizard of Oz" jokes many from other states feel compelled to tell when they meet someone from Kansas.
Jardes and a team of fellow Tonganoxie Middle School sixth-graders — Emma DeMaranville, Haley Arevalo, Shannon Haufler, Nicole Zerrer, Shannon Olson and Emily Eberth — tapped into those tired jokes to win a trip to Knoxville, Tenn., with a skit they presented Saturday at the middle school for the state Destination ImagiNation competition.
Through music, art and puppetry, the students playing Kansans in the skit convince two playing New York visitors that the state is much more than the cliches.
"The people from New York only hear farmers, Dorothy from 'Wizard of Oz' or sunflowers when we tell them we're from Kansas," Jardes explained. "By the time we're finished, they've changed their opinion."
The skit was a joint effort, and the girls said the experience taught them the benefit of teamwork.
"That was the most important thing," Arevalo said. "All of us wrote the skit together. As we all worked on it, it got better."
As state winners for their grade-level in Destination ImagiNation's "You're Going to Flip" fine-arts competition, the girls' Toto-lly Ozsome team is eligible for the global finals Memorial Day weekend at the University of Tennessee in Knoxville.
The driving force behind Saturday's competition was Tonganoxie Middle School Principal Jill Dickerson. She started looking for programs several years ago as a way to reach out to all students rather than just those identified as needing extra help on state assessment tests, she said.
She settled on Destination ImagiNation, a non-profit enhancement program developed by the Center of Creative Learning and The Creative Problem Solving Group, because it was versatile, Dickerson said. Students could compete in six different subject categories. In addition to the technical and scientific classifications of many academic challenges, Destination ImagiNation adds those in the fine arts and improvisational acting.
"I was also looking for a program that could be utilized in the classrooms," she said. "We're getting a lot of mileage out of some of the challenges. People were like, 'This is fun. I might try to do this with my kids.'"
The competition emphasizes creativity, teamwork and problem-solving. Those are skills employers are seeking to compete with overseas challenges, Dickerson said.
There was a problem in that Destination ImagiNation didn't exist in Kansas. That problem was solved when Dickerson became the state director and started recruiting other schools and Trane of Kansas City signed on as sponsor.
Joining Tonganoxie Middle School at the competition were teams for the district's elementary school, Eudora High School, Clark Middle School from Bonner Springs and El Dorado Middle School.
The statewide budget crisis prevented other interested schools from participating, said Dickerson, who hopes the program will become as popular here as it is on the East Coast and Texas.
After watching Saturday's competition, Rusty McCarty, Destination ImagiNation's chief operating operator, said the Kansas students demonstrated what the competition was all about.
"The one thing I tell people about Destination ImagiNation is it's real," he said. "It's an opportunity to have a real experience where student learn, write, build and present. The kids are 100 percent responsible for their solutions."
Heather DeMaranville, a school nurse at Tonganoxie Middle School and mother of Toto-lly Ozsome team member Emma DeMaranville, said it was difficult to watch from the sidelines as the team developed the skit.
"It was hard for me to keep my mouth shut," she said. "I work at the school, and we're used to helping the kids when the have questions."
Taking that student-only charge to a different level, a team of five Eudora High School freshmen, Kyleigh Price, Catherine Tarka, Robbi Lycan, Allie Galloway and Cody Brock, arrived at the competition with no faculty sponsor. As the only high school team, they won the fine arts competition with a skit that "flips' thinking about smoking.
Tarka said the students were longtime friends who had a common interest in theater and the arts.
"It wasn't a geeky kids thing," she said of the competition. "We're more into acting, speech, debate and the arts."
The Eudora team members said they were determined to raise enough money to get to the global finals.
That is not a concern for the Toto-lly Ozsome team because of Dickerson's efforts. She secured grants from Ingersoll Rand, Lifeform and Eudora Family Care — the clinic of her husband, Dr. Daniel Dickerson,