Complete focus:
THS

boys track team ready to compete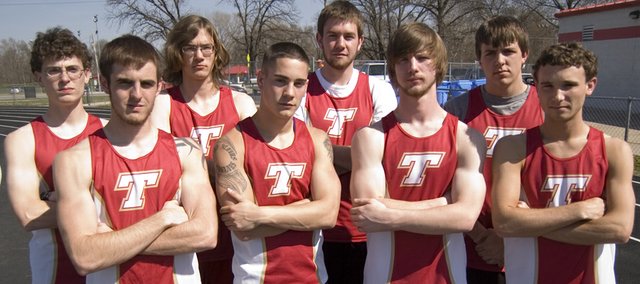 The weeks leading up to the official start of Tonganoxie High's boys track season would best be described as uneventful.
No problems. No slacking off. Just everybody working hard.
Chieftains coach Phil Williams didn't have to yell at anyone. Not that he's surprised. Rather, he was impressed with what he saw from the team's upperclassmen.
"We've got a great group of seniors with lots of standards in leadership," Williams said. "These kids work hard and everybody follows them."
The THS seniors include long-distance runner Cooper Gish, hurdler and relay member Bret Koch, sprinter and relay member DJ Lindsay, javelin thrower Richie Ridihalgh, thrower Michael Sullivan, long-distance runner Matt Titterington, sprinter and relay member Tyler Woolworth and shot put and discus thrower Stephen Wilson.
There's a reason their professional approach comes as no surprise. Tonganoxie was first at four meets in 2009, finished third at the Kaw Valley League meet and qualified for state in seven events. Among the team's state qualifiers just David Powell and Austin Smith don't return.
"We just have a variety of people that are strong in a number of events and I expect we'll do the same this year as last year, points wise," Koch said.
Williams agreed with that assessment and said the Chieftains should be strong in the majority of their events.
Lindsay, who helped the 4x400 relay team win a Class 4A state championship last season, is the best of the team's long sprinters. Koch and junior Jeremy Carlisle, who also were members of the championship relay team, should score points in the intermediate hurdles. Jake Willis is a returning state-qualifier in the pole vault and Wilson is expected to help the team in the discus.
The relays, of course, should be highly successful. In the 4x400, either Willis or Woolworth will replace Powell and the 4x100 team, which qualified for state in 2009, returns intact with Koch, Willis, Carlisle and Lindsay.
As a defending state champion, Koch said expectations are high in the 4x400 relay.
"It's kind of nerve-wracking. I feel like we have a lot of pressure on us, too, since we won state last year to win state again," Koch said.
He knows they can get back to Wichita but in the meantime said the runners will focus on the next meet on the schedule.
"Hopefully we can come back with a title again," Koch said of the group's ultimate goal.
Williams said the only events he isn't completely sure about for Tonganoxie are the javelin and jumps. But junior Dylan Scates should do well in the triple jump after qualifying for state a year ago and sophomore Dillon Jacobs could place well in the high jump.
Though he doesn't throw javelin, Wilson is the Chieftains' resident senior expert thrower. He noted THS didn't lose any of its shot put or discus throwers from last season and said practices have been going well.
"We'll just have to improve on last year — I know we will," he said. "I think there might be several of us who could possibly make it to state."
Wilson said Bryson Hewins has shown well in the discus, as has Tyler Gonser. He also predicted future success in the shot put for Tyler Stockman.
With quality depth in a number of events, Wilson expects a lot out of Tonganoxie this season.
"We've got high expectations and we're looking to do about the same or better," he said, referring to last season.
Williams said the Chieftains are capable of matching last year's success, if not improving upon it.
"We're not as deep this year as maybe we have been in some years but we've got higher quality athletes in some of those events," he said.
The THS season was scheduled to begin Tuesday at the Lansing Invitational but it was rained out. On Friday at 4 p.m., Tonganoxie will compete at the Basehor Invitational.
More like this story