Mountain men to kickoff museum's year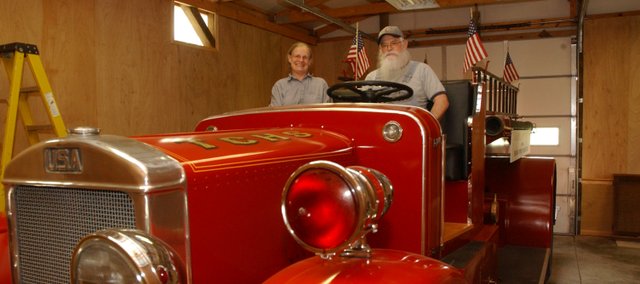 They're too rugged to arrive with hot tubs, but the weekend visitors to the Tonganoxie Community Historical Society will certainly appear to be from another time.
Suzy Ross, museum director, said she expected members of the Bald Eagle Re-enactors to start showing up Friday night at the historical society's grounds at 201 W. Washington St. and some to camp through Sunday morning. But the time to see the mountain men re-enactors up close and enjoy the history they bring to life is from 10 a.m. to 5 p.m. Saturday.
The event will coincide with the museum's season kickoff open house, Ross said. It will mark the official opening of the fire station, which houses the newly restored 1936 USA pumper and displays of the truck's history and that of local fire departments. The other three buildings at the site, Honey Valley School, Reno Church and Fairchild Barn, will be open to the public.
"It's family entertainment and it's free," Ross said. "School kids should just love this.
"We'll have popcorn and lemonade in the barn if you're thirsty or need a muncher."
The Bald Eagle Re-enactors will demonstrate such mountain man crafts and skills as muzzle ball molding, cooking with a primitive oven, blacksmithing and — if a pelt is available — animal hide tanning, Ross said.
There will also be knife and tomahawk throwing demonstrations and one by an archer "who can shoot arrows faster than you can shoot a gun," she said.
The re-enactors will be dressed in period garb, including furs, and carry such things as flintlock and cop-lock rifles, powder horns and fire starting strike-a-lights, said Ross, who is a muzzle loader with her husband, Larry.
The goal of Saturday is to build awareness of the museum, Ross said. It will be open from 1 to 4 p.m. Sundays through October, she said.
"We're just trying to rally support for this," she said. "We're a totally volunteer organization that's just trying to preserve the history of our community."
"We're open to the public and always free."