Runners expected to lead Tonganoxie girls track team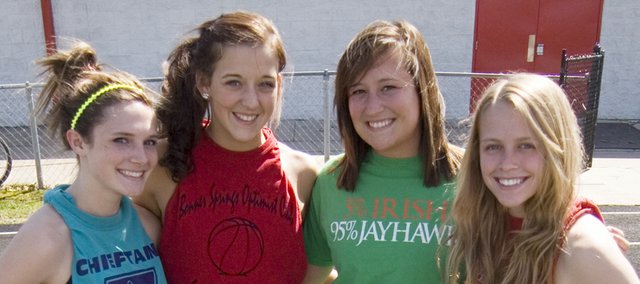 Last season was a little disappointing for the runners on Tonganoxie High's girls track team, but this year could be quite the opposite.
At the state track meet in 2009, not one Chieftains runner was competing — only field event athletes qualified for the THS girls.
Senior Andie Jeannin, who will run in 800-meter races and be a part of Tonganoxie's 4x100, 4x400 and 4x800 relay teams, said last year the racers were limited.
"Our runners weren't as strong as we should have been because we had a lot of injuries and health issues," Jeannin said, before noting the runners should give the team a boost this season.
Coach Chris Weller likes the make-up of his squad in 2010, particularly because of the team's potential on the track. The coach said Tonganoxie looks strongest in the 800-, 400- and 200-meter races, as well as the 4x400. Freshman Jenny Whitledge will run the 400 and 200 and the 4x400 relay team will be comprised of Jeannin, Whitledge, Abby Eisman and either Alex Hauk, Emma Slater, Sagan Scates or Cristina Rubio.
"If I can keep everybody healthy, we're gonna look really good in the mid-distance and the relays," Weller predicted.
Jeannin said she has been impressed with their relay teams.
"I think our relays are looking pretty good," she said. "We don't have one dominant runner, but we have a bunch of good runners."
Weller also felt positive about having increased numbers for hurdles, an event on which Eisman is focusing, and said Whitledge could help the team score points in the high jump. He said THS only appears "weak" in the 100-meter dash, the long jump and the triple jump.
Jeannin said she has been impressed with a lot of the team's younger competitors, not only Whitledge but also Abby Thomas in the long sprints and Jennifer Stinson in the hurdles.
Of course, throwing events are another part of the equation — "Throws have been huge every year for us," Weller said — and the Chieftains will miss 2009 graduate Roni Grizzle, who scored a ton of points for the team last season.
But her younger sister, junior Domino Grizzle, is still around to throw the shot put and discus for THS.
The javelin seems to be more of a question mark, however, entering the season. Tonganoxie has just one senior, Madi Yates, competing in that event. She said javelin throwers at THS have always taken pride in aiming for top-three finishes at meets and predicted the throwers won't be bad this season.
"It will be a lot different than it had been in the past, because we don't have any hard-core people who can throw that far," Yates said.
But, she added, there is one young thrower — freshman Jo Kissinger — with a lot of potential.
"She's caught on really quick," Yates said.
Tonganoxie's track season was scheduled to begin Tuesday at the Lansing Invitational but it was rained out. THS will compete at the Basehor Invitational on Friday at 4 p.m.