Tonganoxie baseball off to slow start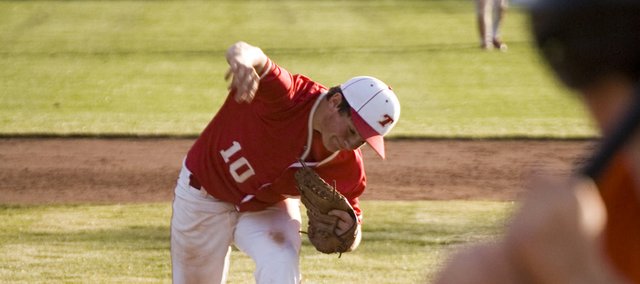 Photo Gallery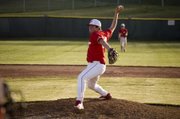 THS baseball loses opener
The Tonganoxie High baseball team lost its season opener, 10-7, to Bonner Springs on Wednesday.
Thanks to an 0-2 start to the season, the Tonganoxie High baseball team wasn't feeling overly positive.
The Chieftains lost their season opener, 10-7, to Bonner Springs on Wednesday, March 31 and the next day lost, 2-1, in eight innings to Perry-Lecompton.
As junior Ethan Lorance, who threw six innings and struck out 12 against PLHS, said, the team was "bummin'."
"If we had the offense from our first game and the defense from our second game, we'd be good," Lorance said. "We were disappointed in both games."
Tonganoxie coach Phil Loomis pointed out that just three returning varsity players were in the lineup for the two losses.
"There's only three guys over there that ever had worn that red uniform — even put one on," he said.
But what disappointed Loomis was the early offensive production of those three players — Lorance, senior Dylan Caywood and junior Dylan Puhr. They combined to go 3-for-20 with one hit apiece and the Chieftains totaled only seven hits in the two losses.
"We're just not swinging the bats," Loomis said.
The coach went back and looked at the pitch breakdown from the two games and shared some jaw-dropping tidbits with the team: Tonganoxie saw just more than 150 pitches for strikes and put only 32 of those in play.
Loomis said the players were starting to realize "you just don't become a good player, you've got to develop."
Caywood stressed this year's team wasn't guaranteed anything based solely on the program's success during the past few seasons.
"Just because you wear the Tonganoxie jersey doesn't mean you've got a winning team," the center fielder said. "It takes a lot of hard work to win in this league — there's a lot of good teams."
But there are some positives the Chieftains can take away from their first week. Loomis said before the season he didn't know how the pitching would hold up but through two games and 15 innings his hurlers had allowed just eight walks and Lorance was better than advertised.
"Lorance, we found out he can be dominant when he's on," the coach said, adding THS will be in the game against anybody with him pitching.
Besides, Caywood said, there are reasons for the players to believe improvement is on the way.
"A couple of our players haven't been able to play and we've got a lot of JV players that hadn't seen varsity before," he said. "It's just an adjustment period. Once they get some playing time, they'll get up to varsity speed."
Tonganoxie will get two additions to its lineup this week. Senior Brandon Yoder is coming back from suspension and Tyler Freeman, who was the fourth outfielder last season, has re-joined the team. Loomis said they will solidify the outfield — with Yoder in left and Freeman in right — and provide some offense.
"Both of those guys know how to swing the bats, so it'll make a big difference," Loomis said, noting the added depth might take some pressure off the three returning starters who had struggled at the plate.
With his team now at full strength, Loomis said he considers the season officially under way.
The Chieftains have a road doubleheader at Jeff West and a home game against Basehor-Linwood on the slate this week, two solid teams according to the coach.
"We'll see if we make adjustments," Loomis said.
Tonganoxie was scheduled to travel Tuesday to Jeff West and, weather permitting, will play host to BLHS at 4:30 p.m. Wednesday.