Big 6th innings key
THS

sweep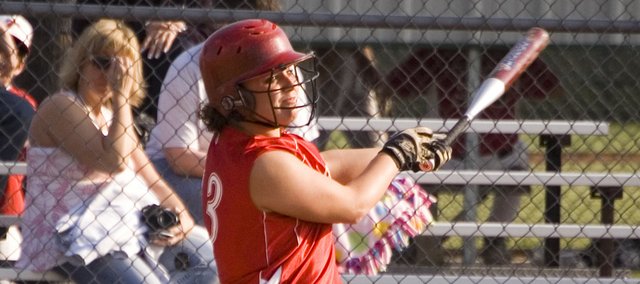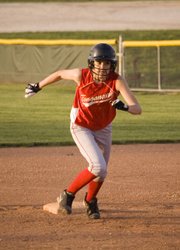 It was all about the sixth inning for the Tonganoxie High softball team on Tuesday at Leavenworth County Fairgrounds.
The Chieftains swept Piper, winning 5-2 and 6-2, first by plating all five of their Game 1 runs in the bottom of the sixth and then scoring four in the same frame in Game 2.
THS (3-3) trailed 2-0 through five and a half innings in the opener before busting out of a slump in the magic inning.
Kaitlyn Wolken led off the bottom of the sixth with an infield single, bringing senior Lindsey Fatherley to the plate. Tonganoxie's clean-up hitter tied the game by belting a pitch to the right-field gap and hustling around the bases for a two-run inside-the-park homer.
Fatherley's home run ignited a rally as Angela Jacobs followed it with a single. She was replaced by courtesy runner Hannah Kemp, who scored the go-ahead run with one out after Piper committed an error on a Haley Smith grounder.
Kailan Kuzmic then drove in Smith with an RBI-double to right field before scoring the Chieftains' fifth run of the inning on a McKenzie Knight triple.
Tonganoxie again needed a big sixth in the second game after the Pirates tied things up at 2-2 in the top of the inning.
The second time around it was Amanda Holroyd who started the spurt with a single, the first in a string of five straight for the Chieftains.
Holroyd's bloop to center field was followed by a Kemp single and Brooklyn Kerbaugh drove in the go-ahead run with a base hit to right field.
Next, McKenzie Knight helped THS begin to pad its lead with an RBI-single to left.
Kerbaugh gave the home team a 5-2 advantage when she scored from third on a double-steal that put Knight at second base.
Then Kuzmic knocked a single to center to drive home the team's sixth and final run of the victory.
Tiffany Jacobs threw a complete game to earn the win and fanned five batters.
The Chieftains held a 2-1 lead after five innings before PHS tied things up with a couple of triples.
The Pirates were in the midst of a potential game-changing rally before they were stymied by the Tonganoxie defense. With one out and a runner on third, junior third baseman Wolken snagged a grounder down the line, froze the PHS runner and tagged her out by diving toward the bag.
That fielder's choice put a Piper runner on first base and she was later caught in a pickle after an indecisive steal attempt.
The Chieftains have another home twinbill on Thursday at 4:30 p.m., when they play host to Mill Valley.