BOCC

debates animal control in rural Leavenworth County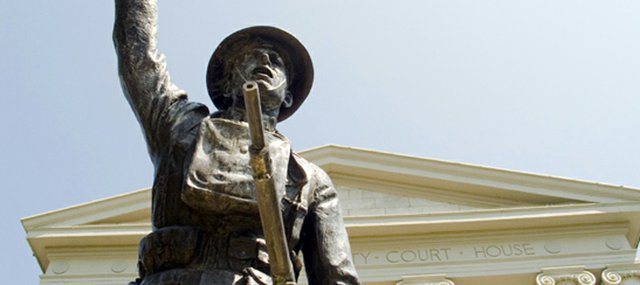 If Leavenworth County is going to put bite into its toothless animal control resolution, county commissioners are going to make changes like those first proposed 17 years ago.
The commission studied the county's animal control resolution Thursday and Monday in discussions that involved the county attorney, sheriff's department and the Leavenworth County Humane Society.
The discussions were prompted by e-mails to county commissioners complaining of dogs chasing bicyclers or causing traffic hazards as the bikers attempted to avoid dogs.
County Attorney Todd Thompson said dogs nipping at the heels or wheels of bicycles might be disconcerting to bikers but it would take an actual bite before he could successfully prosecute an incident in district court under state statutes. He further elaborated that to have a dog declared a vicious animal in court was a difficult-to-prove process that required owners know a dog was vicious, was loose and had intent of an attack or it resulted from reckless neglect.
The county attorney's office was powerless to prosecute any provisions in the county resolution outside of state statute because they had no standing the district court and there was no other court with jurisdiction, Thompson said.
However, he would prosecute cases that did meet state criteria, Thompson said.
Leavenworth County Sheriff Dave Zoellner said officers do investigate complaints called into the department. But he said those were reviewed to ensure there was hope of successful prosecution.
At the conclusion of Thursday's discussion, Undersheriff Ron Cranor said the discussion wasn't new and that he authored a proposal 17 years ago on the same issue.
"In 1993, I tried to solve the world's problem with animal control in rural Leavenworth County," he said. "It's been a containment issue that never went way."
Among Cranor's solutions were the registration of dogs and cats in the incorporated area of the county and containment of animals to their owners' properties.
Commissioners had already mentioned those solutions, and they were included in a report presented Monday by Jeff Joseph, county planning and zoning director, proposing the county establish an animal control department. The proposal would have the county hire an animal control officer to do such things as investigate biting incidents and complaints of cruelty or neglect of animals, and quarantine and impound animals. That person would be aided by an administrative assistant responsible for pet registration and records.
But commissioners agreed it would take more than one person to enforce the regulations in a county with 800 miles of rural road. Other expenses would be vehicles, computers and a pound.
In addition, regulations would be meaningless without a county codes court for enforcement. Commissioners received a report last month on new building code regulations for the unincorporated area that would also require a codes court.
In all, the minimum cost to make an animal control department function was estimated to be $155,000.
There was possible revenue to offset that. The county could realize $62,690 annually if all the estimated 6,736 cats and 5,802 dogs in the rural sections were registered for $5.
Although all acknowledged that wouldn't happen, Commissioner J.C. Tellefson said responsible pet owners would register their pets and those who didn't would face fines in addition to the fee when animals were picked up.
"We need to do this," he said. "We need to take care of our problems. We're not fulfilling our responsibilities."
The proposal was tabled, but commissioners promised to revisit it April 26 when they discussed priorities for the 2011 budget.
Tellefson said his top priority was a codes court for both animal control and building codes.
In other action of the last week, the commission:
• Approved funding a grant to Pleasant Ridge High School for an after-prom party. Because organizers missed a deadline for funding applications, the grant was not among those recommended for other county high schools by the Leavenworth County Drug and Alcohol Abuse Council and thus needed the unanimous approval of commissioners.
• Approved purchase of two trucks from Kansas Truck Center for $228,480.
• Approved purchase of an EMS supervisor vehicle for $43,836 from American Response Vehicle.
• Approved an update of the 30-year old sanitary code that aligns county septic and wastewater regulations with those of the state.