Here comes the 'boom':
THS

track teams win titles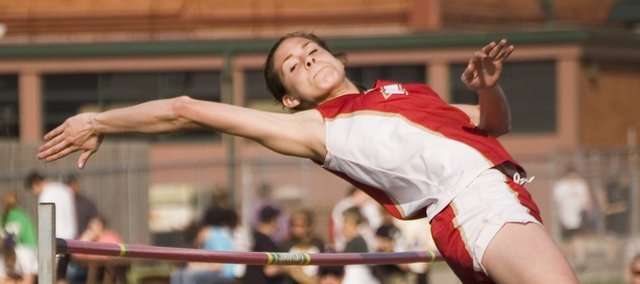 Photo Gallery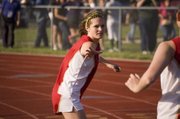 Chieftains 1st at Bobcat Relays
The boys and girls track teams of Tonganoxie High won team titles on Friday at Basehor-Linwood's Bocat Relays.
Basehor — It didn't take long Friday at the Bobcat Relays for the Tonganoxie High girls track team to prove it came to contend.
"Boom!" exclaimed Chieftains coach Chris Weller after watching freshman Jenny Whitledge reach 5-foot-4 and win the high jump early in the afternoon.
Her first-place finish was just one of seven for the THS girls as they cruised to a team title at Basehor-Linwood, totaling 172 team points — 59 more than second-place Piper.
"I thought we'd do really well to start the year off," Weller said. "I didn't think we'd start off that well."
To go with Whitledge's gold medal, Domino Grizzle won the shot put and discus, Danny Oelschlaeger won the pole vault, Andie Jeannin won the 800-meter run, and the 4x800 relay team — Lauren Hall, Alex Hauk, Sagan Scates and Jeannin — as well as the sprint medley relay team — Shelby Maxon, Cristina Rubio, Hall and Scates — finished first.
But Weller wasn't impressed only by the event winners.
"You don't have to win first place to be a highlight," the coach said, noting it was nice to see young members of the team contribute, such as sixth-place finishes from Jo Kissinger in the javelin and Abby Thomas in the 1,600-meter run.
By the end of the night, Weller had plenty of reasons to be excited.
"All the relays are really doing well, and Andie Jeannin is really looking superb," the coach said.
Jeannin, a senior, ran for the winning 4x800 team, the second-place 4x400 team and the fifth-place 4x100 team. She said she was confident in the relays, especially the 3,200-meter race, and was happy to finally get the season started after five-plus weeks of practice and a rainout at the April 6 Lansing Invitational.
"It's so nice," Jeannin said. "I was like happy when I was running. I wasn't dreading it like usual."
THS boys win team title
Tonganoxie's boys had just as much success at Basehor, winning a team title of their own and eight gold medals.
Senior sprinter DJ Lindsay started the season in dominating fashion, helping the Chieftains win the 4x100 and 4x400 relay races to go with his first-place finishes in the 200- and 400-meter sprints. And all that came after he set a Bobcat Relays record with a 21.8 in his 200 prelim.
Lindsay wasn't expecting such a low time this early in the season.
"I may try for like a low 21 now… If I can do that, maybe my scholarship will go up," he said with a laugh, referring to his eventual spot on the Wichita State University track team.
The sprinter's THS teammates, of course, were just as important to the squad's success. Lindsay teamed with Bret Koch, Jake Willis and Jeremy Carlisle in the 4x100 relay and Tyler Woolworth, Carlisle and Koch in the 4x400 relay.
Other first-place finishers were sophomore Dylan Jacobs in the high jump, junior Dylan Scates in the long jump, Carlisle in the 300-meter hurdles and Willis (whose 13-foot mark tied a meet record) in the pole vault.
Tonganoxie coach Phil Williams said the stellar debut proved this year's team will be different from past ones, when the biggest strength was a team's depth, with several third- through sixth-place finishes, for example.
"That is not the case this year, obviously," Williams said. "I think we will probably place better as a team in a big, tough meet than we will in a smaller one, because we have several kids who are still going to place high in the bigger meet."
The Chieftains finished first and second in the pole vault thanks to Willis and Ian McClellan, who tied a personal record with a second-place vault of 11-6.
But McClellan called it "more of a legit PR" than his previous 11-6 last season at the Kaw Valley League meet.
"The last one at league, I kind of had a lucky break on it, " the junior said, explaining the bar bounced up and back onto its proper resting spot after he hit it on his vault as a sophomore.
McClellan said it was crucial for he and Willis to place high and help the team rack up points.
"It feels sweet. We still get excited," he said.
The THS track teams will play host to the Tonganoxie Invitational starting at 3:30 p.m. Thursday at Beatty Field.
Bobcat Relays
Friday at Basehor-Linwood
Girls
Team scores: 1. Tonganoxie, 172; 2. Piper, 113; 3. Perry-Lecompton, 110; 4. Sumner Academy, 103; 5.
Basehor-Linwood, 68; 6. Bishop Ward, 61; 7. Bonner Springs, 52; 8. Pleasant Ridge, 41; 9. Turner, 9.
THS results
200 — 3. Jenny Whitledge, 27.46.
400 — 3. Jenny Whitledge, 1:05.94; 8. Alex Hauk, 1:12.12.
800 — 1. Andie Jeannin, 2:31.51; 4. Lauren Hall, 2:41.20.
1,600 — 6. Abby Thomas, 6:13.21.
3,200 — 5. Niki Beggs, 14:29.81.
100 hurdles — 2. Abby Eisman, 17.27; 3. Shelby Maxon, 17.75; 4. Emma Slater, 17.76.
300 hurdles — 3. Abby Eisman, 54.71; 5. Shelby Maxon, 55.92; 6. Emma Slater, 57.51.
4x100 relay — 5. Tonganoxie (Andie Jeannin, Sagan Scates, Cristina Rubio, Shelby Maxon), 57.04.
4x400 relay — 2. Tonganoxie (Jenny Whitledge, Andie Jeannin, Abby Eisman, Lauren Hall), 4:23.58.
4x800 relay — 1. Tonganoxie (Andie Jeannin, Lauren Hall, Alex Hauk, Cristina Rubio), 11:13.25.
Shot put — 1. Domino Grizzle, 39-6; 8. Holly Thompson, 28-9.
Discus — 1. Domino Grizzle, 118-10 1/2; 8. Holly Thompson, 88-1.
High jump — 1. Jenny Whitledge, 5-4.
Pole vault — 1. Danny Oelschlaeger, 7-6; 2. Abby Eisman, 7-6; 3. Jennifer Stinson, 7-0.
Thrower's relay — 2. Tonganoxie (Jo Kissinger, Holly Thompson, Madison Yates, Makayla Sample), 1:03.94.
Sprint medley relay — 1. Tonganoxie (Shelby Maxon, Cristina Rubio, Lauren Hall, Sagan Scates), 2:00.48.
Javelin — 3. Madison Yates, 104-7; 6. Jo Kissinger, 93-5 1/2.
Boys
Team scores: 1.Tonganoxie 141; 2. Piper 135; 3. Bonner Springs, 93; 4. Basehor-Linwood, 89; 5.
Perry-Lecompton, 83; 6. Pleasant Ridge, 77; 7. Turner, 56.5; 8. Bishop Ward, 44.5; 9. Sumner Academy, 27.
THS results
200 — 1. DJ Lindsay, :22.13; 8. Tyler Woolworth, 24.41.
400 — 1. DJ Lindsay, 51.86.
800 — 5. Caleb Himpel, 2:15.06.
1,600 — 4. Matt Briggs, 5:03.36.
300 hurdles — 1. Jeremy Carlisle, 42.64; 2. Bret Koch, 43.48.
4x100 relay — 1. Tonganoxie (Bret Koch, Jake Willis, Jeremy Carlisle, DJ Lindsay), 43.8.
4x400 relay — 1. Tonganoxie (Jeremy Carlisle, Tyler Woolworth, Bret Koch, DJ Lindsay), 3:37.57.
4x800 relay — 4. Tonganoxie (Caleb Himpel, Brady Field, Cody Martin, Jeremy Carlisle), 9:11.59.
Long jump — 1. Dylan Scates, 21-6; 5. Adrian Whittington, 20-2 1/2.
Discus — 5. Bryson Hewins, 127-9 1/2.
Triple jump — 2. Dylan Scates, 42-10; 7. Adrian Whittington, 37-4.
High jump — 1. Dylan Jacobs, 6-0.
Pole vault — 1. Jake Willis, 13-0; 2. Ian McClellan, 11-6.
Thrower's relay — 3. Tonganoxie (Richie Ridihalgh, Dallas Jacobs, Bryson Hewins, Stephen Wilson), 52.29.
Sprint medley relay — 4. Tonganoxie (Jake Willis, Dylan Jacobs, Tyler Woolworth, Bret Koch), 1:42.60.
Javelin — 8. Dallas Jacobs, 130.