New fees coming in 2010-11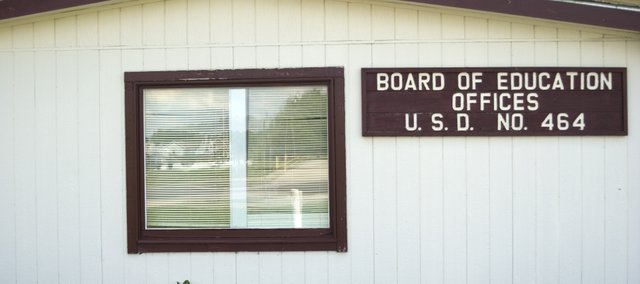 Parents of Tonganoxie high and middle school students will be paying fees for each elective class and club in which their children enroll and participate during the 2010-11 school year.
At Monday's regular meeting, the Tonganoxie School Board approved a fee schedule for 2010-11 that includes a $10 fee per elective class for each fine arts and technical education class at TMS and THS.
Participation fees for activities such as Future Farmers of America, debate, Family, Career and Community Leaders of America, pep/marching band and others will carry a $15 per activity for those schools also. Those fees would be in addition to any club dues that might exist.
"Those dues don't flow through the district," Superintendent Kyle Hayden said. Previously, there were no class and club fees. Other changes for 2010-11:
• Out-of-district tuition, per household, at $350 per semester. There previously was not a charge for out-of district tuition, though currently new students are not being accepted because of space and resource limitations. Anyone owning property in the district would not be required to pay out-of-district tuition.
• All-day kindergarten fees will jump from $5 to $20 per week.
• Fees for team sports, as well as cheerleading and dance, will be $35 per activity, up $5 from 2009-10.
Board member Kris Grinter voiced concern that the out-of-district tuition was sending the wrong message.
Board member Kathy Baragary said the message is that the district is running out of money.

School year to end early
May 20 will be the last day of school for USD 464 students this school year. The board approved Hayden's recommendation to shorten the school year to cut costs. He said the move would save between $25,000 and $30,000.
The district used four snow days this school year and had 7.9 inclement weather days built into the school calendar. School originally was to end for the year May 25. The board approved a similar measure for the 2008-09 school year to cut costs.

Resignations approved
The school board, by a 6-0 vote, approved the resignations of Ron Leslie, food service coordinator; Robert Hudson, transportation maintenance; Phil Loomis, THS science teacher; Brad Shelton, THS assistant basketball coach; and Ruth Wickey, TES teacher. Leslie and Hudson's resignations were effective immediately, while Loomis, Shelton and Wickey were effective at the end of the school year. In his resignation letter, Loomis stated he wished to continue as THS head baseball coach next school year. Wickey is retiring after 32 years in the district. Board member Leana Leslie did not vote because her husband, Ron Leslie, was included in the list of resignations. She said she followed the Kansas Association of School Boards' recommendation to abstain from voting when it involves a family member.
Maintenance news
Larry Easter, district maintenance director, reported that the maintenance department:
• is taking bids for fencing repair around Beatty Field, as well as bids for sidewalk repair on the east side of the elementary school.
• had roof inspections done by America First, the district's accident and liability insurance provider. The company recently requested that roof inspections be conducted on district buildings. The inspections are finished and took one day to complete.
• spread new mulch on garden and landscaped areas around all buildings. THS students also will weed flowerbeds, spread rock and perform other beautification projects on Community Service Day in May.
• had outside antennas installed at the elementary school trailers, which will allow for better computer connections.
• changed filters on all heating and cooling units.
• continues to work with Trane on comfort in the buildings. Easter noted that with the changing seasons, Trane was fine tuning controls and settings. After a full year of season changes and weather, the routine and settings should become more predictable and fewer modifications will be needed, Easter said.
In other business the board:
• met in executive session for a total of 1 hour, 15 minutes to discuss personnel. • approved computer expenditures for equipment and financing as presented.
• approved accepting secure bids for roof work expenditures as presented.
• approved the amended budget and budget hearing at the start of the regular May monthly meeting, 6 p.m. Monday, May 10. Because the full-time equivalent numbers increased from its original budget, he district is required to publish its amended budget and hold a public hearing. Hayden said money was shifted from one budget to another and it did not increase taxes.
• approved Justin Seaver as assistant girls soccer coach for the remainder of the season. Seaver is added because of the high number (35) of students on the team.
• approved adoption of the supplemental positions for 2010-11.