Prom perspectives: Hayley Wheeler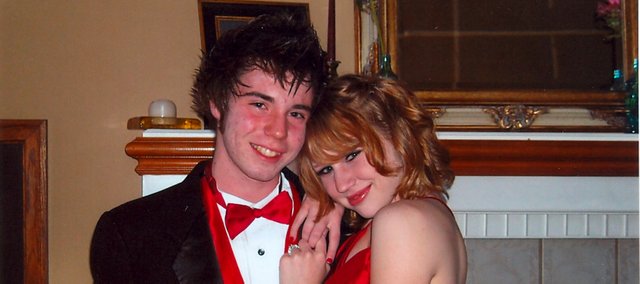 "Oh Lord, how long?"
Hayley Wheeler ponders the question, trying to remember just how long it took to get ready for last year's prom.
"I started at 3 p.m. and got done around 6 or 7 p.m., but I'm not sure what took so long," she said.
Like every other prom-bound girl, Wheeler had to go through an extensive hair and make-up routine. While most girls seek professional assistance, Wheeler was right at home doing her own hair and make-up.
"This year, though, I'm getting it done professionally, for the first and last time," Wheeler said.
For Wheeler, however, the biggest challenge for last year's prom was not her hair-do. It was finding the right dress.
"Last year, I looked for weeks and ended up having three dresses rush ordered," Wheeler said. "They arrived at my house the Friday before prom, and I had to pick from them."
This year, however, Wheeler found a dress "pretty quick."
As for every high school male's nightmare, finding a vest and tie the exact color of his date's dress, Wheeler said she is much more laid back than most, which made things very easy for Jared Knipp, her boyfriend and date.
"We went to Men's Wearhouse to find Knipp's tux and they were really freaked out that we weren't going to try and match exactly," she said.
This is understandable, Wheeler elaborated, when several other girls there had fabric swatches so that they and their beaus could match perfectly.
But Wheeler enjoys a laid-back prom experience. Knipp and she are planning what expects to be a relaxing evening. They'll start at about 3 p.m. with a matinee showing of "Runaways," a movie about female rock star Joan Jett.
Following dinner and the dance, the two will be hitting the bowling alley. Post-prom bowling has become something of a tradition for Wheeler and Knipp, who spent last year tearing up the bowling alley as well.
Wheeler also mentioned that, because of some necessary repairs to Knipp's car, the pair is trying to be thriftier.
"Jared's tux was cheaper and my dress wasn't too bad," the THS senior said.
Despite these small cutbacks, Wheeler is looking forward to her final prom. After all, it will take more than a cheaper tux to deter the girl who alarms Men's Wearhouse employees with her nonchalant attitude toward matching.
As she told the salesman, "I'm excited, but it definitely doesn't have to be perfect."
— Baragary, a senior at Tonganoxie High School, is serving as an intern this school year at The Mirror.