Prom perspectives: Jared Knipp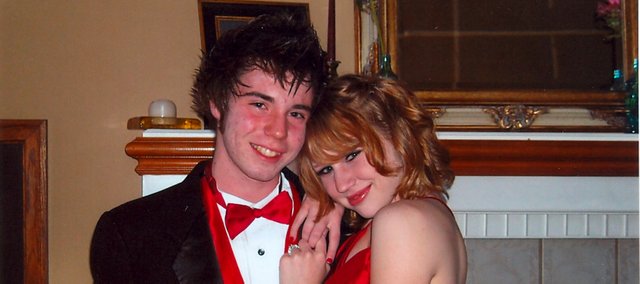 The excitement in Jared Knipp's voice is almost overwhelming.
Almost.
The Tonganoxie High School senior barely can contain his glee as he compares this year's prom experience (so far) with last year's.
"Last year I spent maybe an hour getting ready," he said, noting the real prom preparations began that morning. "I worked, but I got off early to wash my car."
After Knipp washed his car, it was off to pick up his tuxedo. In line with Knipp's style, it was not a simple tuxedo. So after picking up his tux, he rolled home to put the Knipp touch on things, washing his Converse Hi-Top sneakers and pressing his skinny jeans.
Now it was time to tackle his beard. He hadn't shaved for the three months leading up to prom. Always the gentleman, he decided to give his whiskers a trim. This process "reduced my razor to a butter knife," he said. With that in mind, Knipp has been stockpiling razors for some time now.
Once he had shaved, trimmed, pressed and washed, Jared made his way to the home of Haley Wheeler, Knipp's girlfriend and prom date.
"Her mom took a ton of pictures," Knipp said of Wheeler's camera-happy mother. "And I'm sure she'll have us take a few this year, too."
Dinner for the pair was an extremely casual affair. Not having made any reservations, they made a stop at the Leavenworth Applebee's for dinner.
Last year's prom costs stood at roughly $200 for Knipp.
"My tux was about $140, dinner was $30 and flowers were about $40."
This year, it looks as though costs will be similar, though Knipp is trying to keep things as inexpensive as possible. And he won't be spending money on shaving cream, noting he won't be shaving for this year's prom.
Prom festivities will begin at 3 p.m. Saturday for Knipp and Wheeler. The duo will begin with a movie before heading to prom, which starts at 8:30 p.m. at the Kansas Union Ballroom on the Kansas University campus in Lawrence.
Asked what movie the two plan to see, Knipp proved chivalry to be alive and well by answering, "I don't know, whatever Hayley wants to see."
Other than that, however, the two see this year's prom experience as being very similar to last year's, with one big difference. This year, the two won't be eating at Applebee's. They'll be eating at Ted's Montana Grill, where Knipp actually made reservations.
— Baragary, a senior at Tonganoxie High School, is serving as an intern this school year at The Mirror.