Tonganoxie softball struggles to bunch together hits in losses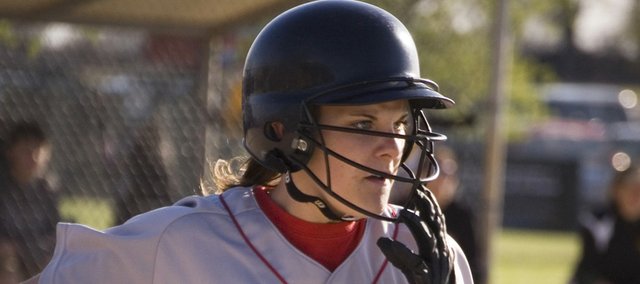 Photo Gallery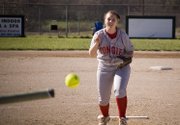 THS softball swept at Basehor
The Tonganoxie High softball team lost both games in a doubleheader at Field of Dreams on Thursday. Basehor-Linwood won, 7-2 and 12-4.
Basehor — Hits weren't the real issue for Tonganoxie High in a pair of softball losses to Basehor-Linwood on Thursday night. It was the timing of them.
The Chieftains had 16 hits in the Bobcats' sweep at Field of Dreams but never could to put together a sizeable rally in losses of 7-2 and 12-4.
"It was just one of those things where we couldn't get our bats going," said junior shortstop Kaitlyn Wolken, who drove in both THS runs in the first game. "It's almost like a domino effect — one person starts hitting, we all start hitting."
For a little while, it looked as though Tonganoxie's two-run, four-hit seventh in the opener might do just that. THS (1-3) opened the second game with hits from Brooklyn Kerbaugh, Wolken and Tiffany Jacobs and took an early 2-0 lead in the first. But other than a two-run fourth, when Tiffany and Angela Jacobs doubled back-to-back and Haley Smith had a bunt single, the Chieftains couldn't put anything together. Their only other hit came in the second from Emily Stafford, but she was caught attempting to steal second base.
"We came out here in the first game and we were just dead," Tiffany Jacobs said. "The second game we kind of got pumped up."
THS was excited to be up, 4-1, through three and a half innings but the team lost its mojo and the lead when the Bobcats plated four runners in the bottom of the fourth.
Tonganoxie coach Lee Matzeder liked the way his team made solid contact and laid down some bunts.
"We did hit the ball. We just didn't get the hits put together," he said. "We just didn't get two or three hits together like (BLHS) were starting to do. It's frustrating a little bit."
The coach, however, stressed that he remains upbeat about the squad.
"It seemed like we just couldn't catch that break tonight," Matzeder said.
The first-year Tonganoxie coach said one of the biggest positives he will take away from the losses was the pitching of starter Nikki Pennington in the opener.
"The first game I thought Nikki pitched real well," he said after the senior threw three innings and struck out two Bobcats. "We just didn't give her any support."
The players, too, strayed from negativity.
"Attitude wise, we stayed up really well. We stayed together as a team and kept each other up," Wolken said. "We'll come around."
Tiffany Jacobs said a one-week layoff between the team's opener and the rivalry games with Basehor-Linwood didn't help.
"Right now it's just kind of rocky," she said.
Matzeder said Tonganoxie should find some consistency with a regular schedule this week.
"We play Tuesday, Thursday — both at home," the coach said. "I'm hoping we get a little home cooking, get our feet back underneath us and play some smart ball."
The Chieftains play host to Piper on Tuesday at 4:30 p.m. and Mill Valley visits for a 4:30 p.m. start Thursday. Go to tonganoxiemirror.com for updates.