Lansing debaters help
KCKCC

win another national title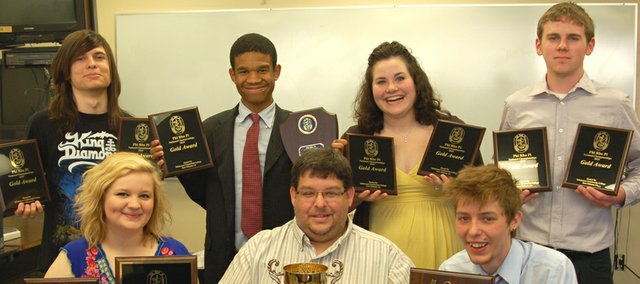 It's probably not a good thing to mess with Kansas City Kansas Community College debaters – they don't exactly take too kindly to it.
Their streak of a record six straight National Cross Examination Debate Association championships ended by a mere six points at the University of California-Berkeley, the Blue Devil team rebounded less than a week later to win a record seventh straight Phi Rho Pi national championship in resounding fashion.
"They were fired up. There was no doubt they weren't going to take any prisoners," said Coach Darren Elliott.
It came in total domination of the Phi Rho Pi tournament, which is determined by head-to-head competition among all community colleges and held this year in New Orleans. The National Cross Examination (CEDA) championship is decided by points accumulated during the entire season in competition with both two and four-year colleges and Universities.
"Of the two, I'd rather win the Phi Rho Pi because you're going up against all the other top community college debaters in the country in one big tournament," said Elliott. "It's kind of like winning the Final Four in basketball or being ranked No. 1. I'm sure KU would have rather won the Final Four than be ranked No. 1."
Elliott's one disappointment was not getting another shot at Johnson County Community College in the Phi Rho Pi tournament. Edging KCKCC by six points in the CEDA standings, JCCC did not compete in the Phi Rho Pi national tourney.
"Yes, I was disappointed to come that close at CEDA and not win but it was a really good year, probably our best the way we performed in New Orleans," said Elliott. "We won everything we could there."
The team was so dominant that six members won Gold Medals in Lincoln-Douglas as KCKCC had six of the eight quarterfinalists and the top three teams in team debate.
Winning gold in Lincoln-Douglas were Kristyn Russell and Nick Novak of Lansing, Blake Burge of Leavenworth, Aaron Thomas of Kansas City Central, Corey Lande of Belton and Marquis Bell-Ard of Oak Park, Ill. By rule, students do not debate against their own team so when the Lansing duo of Russell and Novak defeated their opponents from Folsom and Los Angeles City College, the six KCKCC students were all awarded Gold. Dennis Sudac of Piper and Katelyn Lawson of Leavenworth also competed in the event for KCKCC.
In team debate, the duos of Novak and Lande, Russell and Thomas and Burge and Sudac reached the semifinals and then won gold when a team of Bell-Ard and a student from Hutchinson were eliminated.
Lande and Novak added further to the dominance by winning the Bell-Scroggins award as the team voted by competitors as representing the best there is in competition at the national tournament.
By tournament's end, KCKCC had piled up 102 points, almost double the 55 scored by the second place finisher. That gave KCKCC the sweepstakes award for the top Debate Program and also the sweepstakes award for the Top Program overall because of the success of the KCKCC Forensics team, which got a national championship from Stephanie Henderson in Poetry and a second place finish from Henderson in the Program of Oral Interpretation. She was joined on the KCKCC team by Tiara Tyson and Michael Kelley.
Despite not winning the championship, KCKCC had an exceptional showing in CEDA. Kristyn Russell was named to the 30-member All-American team and "We had three teams finish one win from making the elimination bracket field of 64," said Elliott, "We've never had that before." The three teams were Russell and Thomas, Lande and Novak and Bell-Ard and Ryan McFarland.
"This is also the first year we had two true novices, Dennis Sudac and Blake Burge," said Elliott. "They had never debated until the second semester. I recruited them out of my public speaking class."
With only one true sophomore, Aaron Thomas, Elliott won't have to rebuild, just reload for 2010-11.