Teen proved inspirational to
KU

football players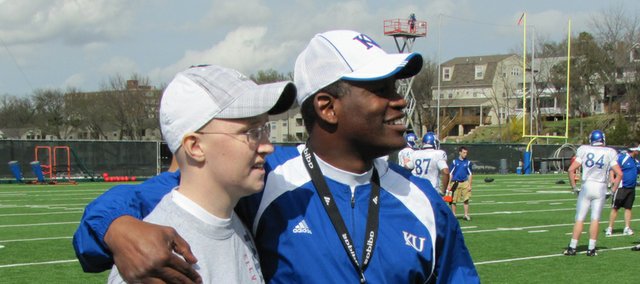 A couple of Fridays ago, Kansas University linebacker Steven Johnson strolled out to spring practice a little more slowly than normal.
Johnson, who is competing to become a starter this fall, typically takes the field with fire and enough energy to power KU's new state-of-the-art scoreboard. But on this day, he was a little sluggish.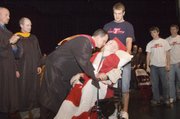 Who knew that it would be a high school senior from nearby Tonganoxie — and not head coach Turner Gill or one of Johnson's teammates — who would lift his spirits?
But it was. And, in a lot of ways, that was a surprise in itself to Connor Olson, the football fanatic from Tonganoxie High School who had been invited to KU's practice by Gill. Olson has been battling bone cancer for more than a year.
"That was an eye-opening experience," Johnson said. "I might not ever forget that day because I was going out to practice, and I wasn't feeling it that day, but he just came out and showed us to live life to the fullest."
Unbeknownst to Olson, the way he would do that was by leading the Jayhawks through a breakdown and handing out high-fives. Unable to show people how to live it up, Olson decided to start telling them.
He talked to anyone who would listen, anywhere he could grab an ear, even when that meant being thrust into the middle of more than 50 mammoth college football players without having time to prepare for it.
"He didn't know he was going to be doing that with the football team," THS athletic director Brandon Parker said. "But coach Gill told him to go for it. So he kind of did an impromptu speech."
The speech had a big impact on the men who heard it.
"That's unbelievable what he can do," Johnson said. "To just come out here and pick us up was amazing. And we tried to pick him up right back. Just to see him walking on one leg and with one lung, it's crazy. I don't know how I would do in that situation, but to see the strength he has, I know he affected me."
So much so that after practice Johnson told Olson that he'd be praying for him and then posted a similar message on his Facebook account. Safety Lubbock Smith went one step further and sent Olson a letter.
"It was an incredible letter," Parker said. "The family has it now, and I know it meant a lot to them. KU football's won a lot of supporters in Tonganoxie from this. It's about people, not just about football."
After the hugs and high-fives, Olson spent some one-on-one time with KU defensive end D.J. Marshall, who last year was diagnosed with Hodgkin's lymphoma and is still undergoing treatment.
The two exchanged stories, traded cell phone numbers and, perhaps most important for both of them, laughed and smiled.
"The team was awesome with him," Parker said. "I mean, really awesome. He's the key of this, but I also think it says a lot about Turner Gill and what he's all about. He's first-class all the way."