THS

grad Carlin signs with Ottawa
Former Chieftain joining
OU

women's basketball team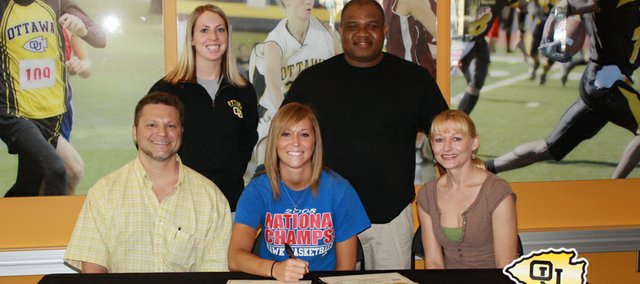 After two seasons at Kansas City Kansas Community College, Tonganoxie High product Shannon Carlin is joining the women's basketball team at Ottawa University.
Carlin, who graduated from THS in 2008, recently signed with the Braves after averaging 7.2 points, 3.4 rebounds, two assists and 1.5 steals and shooting 73 percent from the free throw line in two seasons for the Blue Devils.
"I'm extremely excited that Shannon has decided to continue her education and basketball career at OU," said OU head coach Bruce Tate. "It's good to finally see her officially in the black and gold. She was a player that I recruited out of high school and kept tabs on the past two seasons. I felt we had a solid chance at her coming out of KCK."
A 5-foot-10 guard, at Tonganoxie, Carlin lettered four years in basketball, three in volleyball, two in softball and one in track. She was a Lawrence Journal-World first team All-Area selection and a two-time All-league selection in the Kaw Valley League.
"Shannon is a very athletic ball player and will provide solid guard play on both ends of the floor. She is a very long and athletic guard that can get out in the open floor and do some nice things in our system," said Tate. "Her ability to get to the paint and mid-range game will be a huge asset to our perimeter play. Shannon will make a huge impact (for) our team and will be fun to coach the next two seasons. She is a solid character kid, with a great personality and will be a great addition to our team and campus community."
Carlin is the daughter of Jeff and Margaret Carlin and plans to major in communications.