Current, former Chieftains compete at Kansas Relays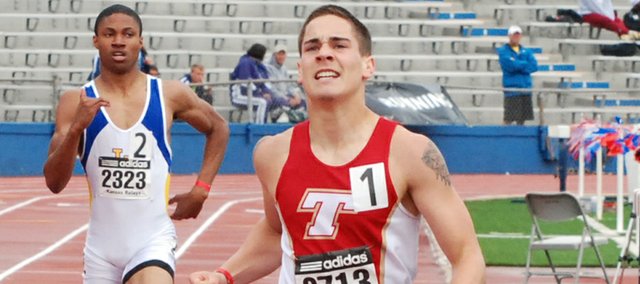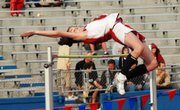 Six Tonganoxie High athletes, as well as three former Chieftains were in action this past weekend at the Kansas Relays in Lawrence.
On Friday, THS senior DJ Lindsay qualified for the 400-meter dash finals by racing to a time of 50.32 in the boys prelims. Lindsay had the sixth-best time out of 31 competitors.
He improved upon that time in Saturday's finals, completing the race in 49.66 seconds to finish fourth.
Friday was a big day for some recent Tonganoxie High graduates. The women's javelin event was a virtual who's who of former Chieftain throwers.
Nebraska University sophomore Roxi Grizzle finished second in the event with a throw of 163-3, while Kansas State junior Ali Pistora placed fourth and Nebraska freshman Roni Grizzle took seventh place.
A third Grizzle, THS junior Domino, threw at the Kansas Relays as well. Although she didn't compete in the javelin, like her older sisters, Domino was 11th in the girls shot put on Friday and 18th in the girls discus on Saturday.
Tonganoxie freshman Jenny Whitledge also competed at Memorial Stadium. She finished 10th in the girls high jump with a mark of 5-1.
Along with Lindsay, three other THS boys competed. Jake Willis placed 15th in the pole vault and the relay team of Lindsay, Willis, Bret Koch and Jeremy Carlisle finished 31st in the 4x100 prelims and 35th in the 4x400 prelims.
Kansas Relays
Memorial Stadium, Lawrence
Friday
Girls
Shot put — 11. Domino Grizzle, 38-1.5.
High jump — 10. Jenny Whitledge, 5-1
Boys
400-meter dash prelims — 6. DJ Lindsay, 50.32
4x100 relay prelims — 31. Bret Koch, Jake Willis, Jeremy Carlisle, DJ Lindsay, 45.35
Pole vault — 15. Jake Willis, 12-11.5
4x400 relay prelims — 35. Jeremy Carlisle, Jake Willis, Bret Koch, DJ Lindsay, 3:35.5
Women
Javelin — 2. Roxi Grizzle, Nebraska, 163-3; 4. Ali Pistora, Kansas State, 159; 7. Roni Grizzle, Nebraska, 137-6
Saturday
Girls
Discus — 18. Domino Grizzle, 113
Boys
400-meter dash finals — 4. DJ Lindsay, 49.66