Plenty of inspiration for
THS

track teams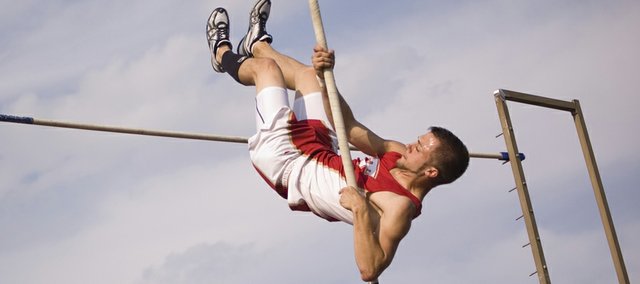 Photo Gallery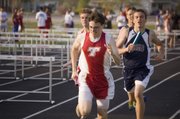 2010 Tonganoxie Invitational
The Tonganoxie High boys track team finished second and the girls took first Thursday at the Tonganoxie Invitational.
Jake Willis shook his head, visibly disappointed.
The junior had just won the boys pole vault at the Tonganoxie Invitational, but he didn't consider his performance worthy of the classmate to whom he and many other Tonganoxie High athletes were dedicating Thursday's events.
A few short hours removed from watching a special early graduation ceremony for Connor Olson, who is battling bone cancer, most Chieftains were preoccupied at the home meet.
But both teams excelled with their minds elsewhere. The Tonganoxie girls won the team title and the boys finished second, despite holding out key athletes in a few events because of the Kansas Relays.
"I didn't know what to expect from the kids because of the graduation for Connor," said THS boys coach Phil Williams. "They were very somber when they arrived down at the track. It seems everyone competed well, and some even mentioned dedicating their effort to Connor."
The invitational was a reminder of the numerous blows of bad news the Chieftains have endured in the past year-plus. There was a moment of silence at the meet for former javelin coach Dave St. Cyr and one of his pupils, Jeremy Elliott, who both died last year. Plus, Austin Stone, who fell into a coma and now is blind, was not only in attendance Thursday, but also held the starting blocks for former teammate Jeremy Carlisle at the start of the 4x400 relay race, which Tonganoxie's boys won by more than 10 seconds.
"I was pretty impressed with the kids … if you think what we've been going through the last year in track," said Tonganoxie girls track coach Chris Weller. "Our kids have really, really held their heads up and competed."
Willis said it hasn't been easy, and he, for one, wasn't at the top of his game after witnessing the graduation.
"It's hard to build your morale after something like that," he said of the moving ceremony for Olson.
It was tough, Carlisle added, to think about athletics, given the circumstances.
"I think people in Tonganoxie have gone through more than a lot of people go through in a lifetime and we're still in high school," the junior said.
Carlisle's mind kept turning to Olson and he just tried to use it as inspiration.
"It's hard to think about something like a three-minute race when people's lives are getting altered," he said.
That sentiment was shared by Cristina Rubio. A few minutes after winning the girls 400-meter dash, she said the afternoon's graduation ceremony was, by far, the day's highlight. Rubio said Olson has taught all the athletes to look at the bright side of things.
"The moment when he just had the thumb's up," she said of Olson, referring to a moment during the graduation ceremony, "I can't think about anything else right now."
Tonganoxie Invitational
Girls
Team scores: 1. Tonganoxie, 181; 2. Lansing, 104; 3. Piper, 82; 4. Pembroke Hill, 55; 5. Basehor-Linwood, 49; 6. Kansas City Christian, 34; 7. St. James Academy, 17.
THS results
200-meter dash — 3. Jenny Whitledge, 27.87
400-meter dash — 1. Cristina Rubio, 1:04.51; 2. Jenny Whitledge, 1:04.83
800 meters — 1. Andie Jeannin, 2:31.8
3,200 meters — 5. Niki Beggs, 14:34.45; 6. Rachel Collinge, 17:53.44
100-meter hurdles — 1. Abby Eisman, 17.1; 4. Emma Slater, 17.43; 5. Shelby Maxon, 17.98
300-meter hurdles — 2. Abby Eisman, 51.6; 4. Shelby Maxon, 53.15
4x100 relay — 2. Shelby Maxon, Sagan Scates, Cristina Rubio, Andie Jeannin, 56.27
4x400 relay — 1. Abby Eisman, Cristina Rubio, Jenny Whitledge, Andie Jeannin, 4:24.24
4x800 relay — 1. Lauren Hall, Abby Thomas, Sagan Scates, Andie Jeannin, 11:25.22
Shot put — 1. Domino Grizzle, 37-2.5; 4. Holly Thompson, 27-6.5; 5. Makayla Sample, 27-2
Discus — 1. Domino Grizzle, 112-6.5; 2. Holly Thompson, 79-3.5; 3. Jo Kissinger, 78-4.5
High jump — 1. Jenny Whitledge, 5-4
Pole vault — 1. Abby Eisman, 8-0; 2. Dannie Oelschlaeger, 8-0; 3. Jennifer Stinson, 7-6
Javelin — 2. Madi Yates, 102-3; 3. Jo Kissinger, 101-9
Boys
Team scores: 1. Piper, 136.33; 2. Tonganoxie, 124.33; 3. Lansing, 115; 4. Basehor-Linwood, 72.33; 5. St. James Academy, 50; 6. Pembroke Hill, 30; 7. Kansas City Christian, 22.
THS results
400-meter dash — 6. Tyler Woolworth, 57.04
800 meters — 3. Caleb Himpel, 2:17.28; 4. Matt Briggs, 2:19.95; 6. Matt Titterington, 2:20.59
1,600 meters — 2. Matt Briggs, 5:01.39; 6. Marcus Titterington, 5:13.86
4x100 relay — 1. Bret Koch, Jake Willis, Jeremy Carlisle, DJ Lindsay, 44.39
4x400 relay — 1. Jeremy Carlisle, Jake Willis, Bret Koch, DJ Lindsay, 3:33.15
4x800 relay — 4. Caleb Himpel, Brady Field, Matt Titterington, Tyler Woolworth, 9:19.15
Long jump — 3. Adrian Whittington, 19-11.5
Shot put — 3. Bryson Hewins, 41-3.5; 4. Dallas Jacobs, 40-2.5
Discus — 2. Stephen Wilson, 131-7.5; 6. Bryson Hewins, 107-11
Triple jump — 2. Adrian Whittington, 38-7.5
High jump — 1. Dylan Jacobs, 6-0; tie-4. Adrian Whittington, 5-4
Pole vault — 1. Jake Willis, 12-6; 2. Ian McClellan, 11-0; 5. Cody Martin, 9-0
Javelin — 2. Dallas Jacobs, 134-8; 3. Richie Ridihalgh, 134-4