Tonganoxie youngsters get sneak peek at kindergarten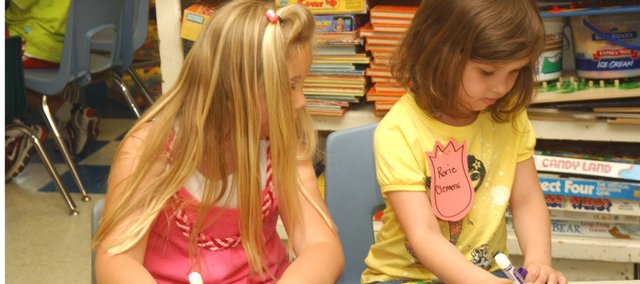 With instructions from Tonganoxie Elementary School kindergarten teacher Denise Smith, Hope Lewallen and Rorie Clemens walked hand-in-hand April 14 to adjoining desks before sitting down to color flowers.
As a kindergartner and old hand at such tasks, Hope kept a watchful eye on her companion's effort. But the younger girl didn't mind.
"We're best friends," Rorie said of Hope, chatting on about how they see each other at stores, the playground and other places.
Life is about transitions, and this was the first the Tonganoxie USD 464 class of 2022 took as a group — and an early one — for its members. Rorie and her future classmates were being introduced to what to expect next year, when they start kindergarten, with the school's sneak peak week.
"Our first goal is to make parents and new students feel comfortable," said TES Principal Tammie George. "They get a real view of what it's like in a kindergarten classroom. And it helps with that separation anxiety when they start for real next year."
A second goal is to give the the school and the district an expectation of how many kindergarten students will come through the doors when the 2010-2011 school year starts in August, George said. The early estimate is next year's kindergarten enrollment will be close to this year's 125 students.
The one certain change for next year is that it will cost parents more to send their children to all-day kindergarten. Among the package of fee increases the USD 464 Board of Education approved April 17 to compensate for state per-pupil budget cuts was an increase of the all-day kindergarten fee from $5 to $20 a week. The state provides per-student funding of kindergartners at half the rate of students in grades 1-12 grades.
George said it was too early to tell if the change would reduce the numbers of full-day kindergarten students.
"I would hope not," she said "Those students would miss out on a lot with only a half day."
Waiting Wednesday outside the elementary school for her son Kolby to finish the hour, Meghann Gehl said she appreciated the opportunity for her family to get a taste of the coming transition.

"He's going to pre-school, but this is different," she said. "It's gone really well.
"I think we (parents) are more worried than they are. I've been a stay-at-home his whole life, so it will be a big change for me."
Melissa Lewallen, Hope's mother and a parent helper at the school, said the day was special for the current and future kindergartners.
"It's a fun day for the little ones and a little scary for some," she said. "The kindergartners look forward to it, too, because they get to be the big kids for a day."